Choosing a Wedding Photographer
Some handy tips and advice to bear in mind when looking for a wedding photographer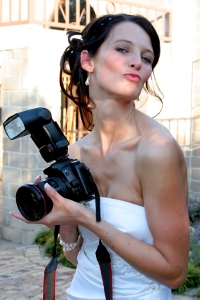 The photographs of your wedding are a permanent record of your most special day and you should take your time when choosing the wedding photographer.
There are many things to consider when choosing your wedding photographer, here are a few tips:
Often couples judge by price alone or book photographers on recommendation from someone on a wedding forum (if you do this make sure that you get opinions from more than one or two members – they are not always genuine!).
Ideally, you should make up your own mind, although a personal commendation from a close friend or family member is most valuable.
Always try to meet the photographer
Do you feel comfortable with him or her – they will be sharing your special day with you so it's important that you get on with each other?
Is the photographer professionally qualified?
Check out the individual's membership of a professional organisation, qualifications and perhaps competition success. The two main associations are The British Institute of Professional Photography (BIPP) and The Master Photographers Association (MPA)
Does the photographer have Professional Indemnity insurance?
Check the photographer has taken out insurance to protect against problems. don't rely upon your own wedding insurance for this.
What style of photographs are you looking for?
There are many different styles of photograph so it is important to work out what type of photographs you would like. For example, would you prefer a more relaxed reportage style or a more formal? Colour or black and white? Modern or Classic? Take along some examples of photograph styles you like.
Have a look at a selection of the photographer's work. Look for life in the images, a sense of occasion and the emotions of the day being conveyed. Any poses should look natural and not overly formal. Take time to discuss your requirements in detail so that you both know exactly what you want.
Ensure you receive written terms and conditions of business before parting with any money as a booking fee. Ask the photographer if any cancellation charges apply and when the balance is to be paid.
With larger companies, make sure that the photos you see were actually taken by the person who will attend your wedding. And check that the photographer you meet will be the same one who does the work on the day!
Some Questions to ask your Wedding Photographer
How long do you stay at the wedding for?
How many pictures do you take?
How quickly will the pictures be ready?
Do we get all the pictures. Can we buy the negatives from you or do we get a DVD of all the pictures?
Will you photograph everyone and what kind of input can we have on the direction of the shots?
Do we have to have group pictures and can we give you a shot list to work from?
Will we know that you are there? * What kind of equipment will you bring with you?
How intrusive will lighting, tripods, other equipment or assistants be?
Do you shoot with film or digital
Do you shoot in colour or black and white, or a digital format that can create both colour and b/w versions of the same picture?
Useful Links
See Also