Designer Dresses For Hire
Matching a girl up to the perfect man/outfit/car/hairstyle is sometimes an impossible challenge. It's not that we're picky, we just don't want to settle for second best, and why should we? To cater for our, not too demanding nature, dating sites allow you to 'test drive' a few men before settling for one that suits you best. So why can't that apply to all things in life? Well we may have to wait before we can hire a hairstyle for the day, but you can now hire your perfect dress for the day!

Not all of us can afford the latest catwalk fashion from top designer names, but there are occasions in a girl's life when she wishes she could. Too often now we have made do with second best, but no more! It is a girl's right to wear exactly what she wants on her special day, whether that's a wedding day, a hot date or a special birthday. So let us introduce you to Girl Meets Dress.
Yes girls, the days of spending a fortune on a dress only to wear it the once, or having to wear the same special dress for every occasion you are invited to, because that's all you can afford, are officially over! The Girl Meets Dress site allows you to browse over 300 designer label dresses, try them on, pick the perfect one to party in and then return it! They have dresses for every occasion that solve your every fashion conundrums!
Wedding Dresses
Look stunning on your wedding in their range of fabulous wedding dresses. Wow the crowds and thrill your man with this gorgeous, sleek and elegant dress by designer Dina Bar-El who is now based in Los Angeles. You can hire this sexy and sassy oyster drape gown for just £89 – a small price to look like a goddess!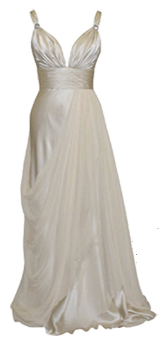 Or how about this stylish and classic Hepburn style dress from Australian designer Ruth Tarvydas? It sweeps across the contours of the body effortlessly, giving the wearer that jaw-dropping effect as she sashays down the aisle looking like a million dollars!
Sex and the City
So you've a hot date and you just don't know what to wear. On the one hand you don't want to reveal too much or he might think you desperate, but neither do you want to look like "the Virgin Connie Swail". Well why not take some tips from everyone's favourite characters who can't put a step wrong? Well, almost!
This gorgeous white cocktail dress was worn by Sarah Jessica Parker in Sex and the City 2 and could now be yours for up to two nights for just £79! Yes, you heard me right, you could dazzle your date with the dress that SJP wore! If ever you wanted to be the envy of your friends, this is your chance!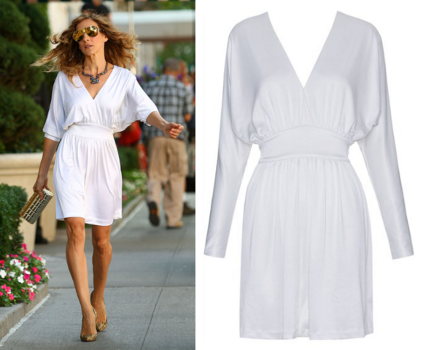 And as if that isn't enough, should you be invited for a second date, which surely you must do after knocking him dead with the cocktail dress! You can carry on the trend with this Asymmetric Jersey Dress that was worn – yes you've guessed it – by Sarah Jessica Parker in Sex and the City 2. This peach toned mini dress is a delight and such a sophisticated style which is only what you'd expect from Halston Heritage.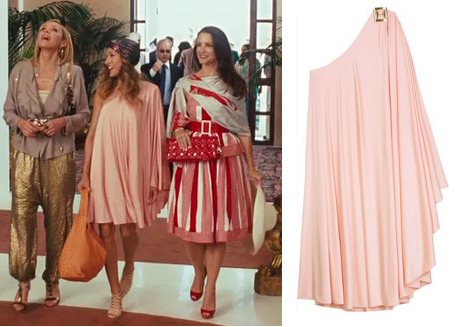 These dresses are not just hot, they are so versatile they could even be worn by mother of the bride for a truly glamorous look without upstaging the bride, but you'll certainly be upstaging the mother of the groom!
Little Black Dress
The staple of every girl's wardrobe is the little black dress. It's versatile and can be worn for practically any occasion, birthdays, hen parties and even weddings. Give your little black dress a designer twist with these sexy, sophisticated styles from the very top designers. The little black dress has never looked so appealing!
Now who hasn't heard of Marc Jacobs? The American designer currently behind the Louis Vuitton label and who has worked closely with Kate Moss. His designs ooze quality and style and this little black party dress is no exception! It has a classic silhouette fit with a flared skirt that is just made for partying in! Be the star attraction in this attractive creation for just £119 to hire.
Or if you want something glamorous and sophisticated to wear to the finest of restaurants, then choose this Swing It dress from Ruth Tarvydas who counts Jodie Kidd, Rhianna and Rachael Hunter as some of her many celebrity clients. You will really stand out in this superb dress that will make you feel as though you are the superstar for the day. Swing it sister!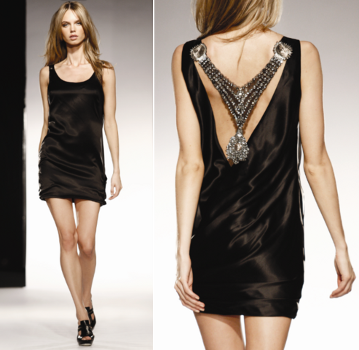 We've featured just a few of the vast range of dresses on offer by Girl Meets Dress. It's the outlet that has everyone talking this season and the only place where you can hire the same dress worn by Sarah Jessica Parker, Cameron Diaz and Michelle Obama to name but a few! You're not just hiring a dress for the day, you are hiring that superstar feeling that only comes with a designer dress that fits as though it was made just for you! Visit Girl Meets Dress to see the site that has created such a commotion in the fashion world.