Hen Night Fancy Dress Ideas
So, you're ready to have some hen night fun, but your can't decide what to wear on your big night out. You and the girls want to dress up, but you're stuck on a theme. Do you all dress the same? Wear hen fancy dress? And, will they let us into the pub/clubs if we're dressed up? For some great hen night fancy dress ideas, and tips on what not to wear read on…
Planning a hen party, what should we wear?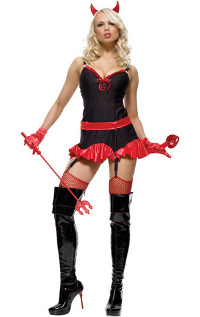 If you're not sure that you want to wear fancy dress at your hen party, but you still want a hen party theme, then why not try the old favourite… matching t-shirts.
More and more hen parties go for matching t-shirts with customised writing on each. T-shirts are extremely inexpensive, and very easy to get made these days. They can say whatever you want on them, such as the name of your party, naughty nick-names for each lady, or even a picture of the bride to be. It's totally up to you.
Matching tees are a great way to stick together on the night. Once the booze starts flowing, you may misplace some of your party, and wearing the same colour will make it easier for you to stick together. You can always top your tees off with traditional horseshoes, veils, feather boas and sparkly tiaras.
If you do decide to choose a fancy dress theme for your hen party, then you'll need to decide if you're all going to dress the same or choose individual outfits and ideas.
Make sure you plan your hen party and your outfits well in advance, to ensure your guests have plenty of time to get their chosen looks together.
If you all head off to the same fancy dress shop, you may even be able to get a discount, leaving your more money to spend on other essentials like the drinks.
Hen night costumes ideas…
Whether you decide to all dress the same in your hen night costumes, you'll still need to look the part.
The school girl uniform is still a firm favourite when it comes to hen fancy dress, but there are plenty more looks that you can choose from. Naughty nurse hen night costumes are always a winner, as well as bad-girl cop outfits, and saucy French maids too.
There are just so many designs to choose from, you'll easily find the perfect theme or hen fancy dress.
Your hen party – What not to wear…
You may think that you've got the perfect hen fancy dress outfit, but will the door staff at your favourite club let you in dressed like that? Before you decide on your hen night costumes make sure that the venues you're planning to visit will allow those looks. Some clubs and bars have strict dress codes and policies, and you and your mates may be left out in the cold with no-where to go.
Skimpy outfits may look super sexy, but think of the weather and the unwanted attention they may attract. If it's freezing out, and you're left shivering in the taxi cue it may ruin your night. And, if you're trying to have fun with your mates and the guys keep buzzing around, you may wish that you'd gone for a more conservative hen night fancy dress choice.