The custom of buying a gift for the happy couple is a long established tradition and the guest to your wedding will probably expect to receive a formal gift list some time before the big day. In the early 19th Century it became standard practice to place an advert in the local press acknowledging the receipt of gifts in order to avoid any duplications – this custom has since evolved into what we now know as a gift registry or wedding gift list.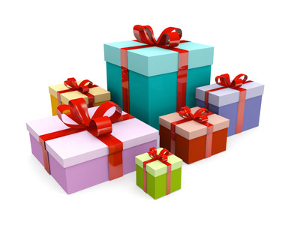 Traditionally guests would approach the Mother of the Bride and ask for a copy of the list. Whilst there is no reason why you can't stick with tradition this method is somewhat outdated and can become complicated if there are a large number of guests. Nowadays it is more likely that a gift list will be sent with the invitation or shortly afterwards – possibly after you have received confirmation of who will be attending.
Wedding Lists
You may opt to organise your own gift list or, like many couples, you might want to take advantage of a dedicated gift list service run by one of many high street and internet based retailers. Most of the large department stores have a wedding gift list service and there are also specialist companies who just do gift lists.
Which is best for you will depend on many circumstances – for instance if most of your guests are internet savvy then a pure internet retailer may be ideal. For those with a mix of guests a store which offers the option of visiting a traditional store may be best.
Before choosing which gift list provider to opt for there are a few things to consider:
The average budget of your guest-list
It is pointless having a gift registry at Harrods if most of guests will be unable to afford to buy anything. A store with broad appeal will usually be a better option as will a range of gift options to suit everyone's pocket.
What happens when your guests place an order?
You may not be aware but in 2008 many couples were left high and dry when a major wedding gift list company, Wrapit, collapsed. In many cases guests had paid for gifts which were never delivered. Some gift providers avoid this risk by delivering gifts as soon as they are ordered while others only deliver nearer the actual wedding day. It's important to check these details before setting up a gift list and, where gifts are held for a long time, only deal with businesses you are sure are financially stable.
Consider giving people an alternative
There may be guests who prefer to choose a gift not on your list and you should always allow people this option. Also, it might be worth considering a second list which allows the choice of giving to a good cause instead. Some people have strong views on the matter of wedding lists and providing an alternative is often a good way of addressing such objections. Oxfam Unwrapped, for instance, provide a range of alternative wedding gift ideas with funds raised going to help a specific cause or project.
Be patient
Most guests will leave it until the last minute so don't be surprised to see that hardly any gifts are being purchased at first. Expect a flurry of gift buying as the big day approaches.
Courtesy
Although traditional you shouldn't automatically expect a gift just because you've invited someone to your wedding – a gift should be a matter of choice. And, more importantly, don't forget to write a thank you note after the wedding to everyone who bought you a gift. Pre-printed notes and cards are fine so long as they also include a personal note from you as well.
Recommended Gift List Providers
Each of the retailers below offers a dedicated wedding gift list service. Each have their unique benefits and we'd suggest weighing up all the options before deciding which to opt for. All have a dedicated contact who will be more than happy to answer any questions you may have.
Debenhams – a famous High Street name with a wide selection of gift options. Gusts can buy on-line, over the phone or in store.
Harrods – you can register a gift card on-line which allows guest to add funds for you to spend at Harrods. Alternatively, you can arrange a formal wedding list in-store and your guests can order by phone, fax or by visiting the store.
John Lewis – a famous department store with a good on-line presence. A wide selection of gifts to suit most budgets. Famous for their excellent customer service and reliability.
Oxfam Unwrapped – an ethical and alternative gift list service with a wide range of interesting and original gift ideas with all funds raised going to a help someone less fortunate.
Notonthehighstreet.com Weddings – a wide range of original gift ideas. Gifts are despatched as soon as they are ordered and can be sent to the guest or directly to the happy couple.
Related Links