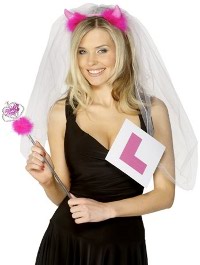 If you're organising the hen night or hen weekend it can be lots of fun, but it's important to make sure that everybody enjoys it. Getting it right will take a lot more planning than you think, so here's some tips to get you started.
You might want to surprise the bride with your choice of activity but you should first make sure it's going to be something she will enjoy. Perhaps you could discuss ideas beforehand without being too specific, just to get some insight into any particular preferences.
Consider activities that everyone will enjoy. If you are catering for a large group it is unlikely that everyone will enjoy the same thing. It might be worth having an event during the day followed by a meal out or a night at a club. This way people will have the choice of opting for just one part of the celebration or both.
Who to Invite?
Draw up a list of people to invite. It might be a good idea to put intended party members into the following categories:
Must Haves – these are the people who must attend, no matter what. Find out what dates they are available and what they will and will not go along with before making any definite arrangements. Of course, you'll aim to please everyone – but these are the hardcore group you need to get on board.
Possibles – you may have lost touch with this group or maybe you are unsure of their availability. Will also include people who have proven to be unreliable in the past.
Obligatories – this group includes the future in-laws, 'friends of friends' and so on. You felt obliged to invite them but secretly hope they will drop-out.
No-No's – the people who assume they will be invited but must not attend, regardless. Try to find a date or activity that you know they won't go for!
Endeavour to keep numbers manageable – 'the more the merrier' is true to a point – but also increases the chances of conflict!
How much will it cost?
People may feel they have to opt out if the activities are too costly but you can organise a budget hen weekend with a little forward planning. Try to accommodate everyone's budget if you can.
Get the Hen herself and the girl who is deemed the most fun to decide how much money you're likely to have and how to make it stretch into the most fun possible. It might be a good idea to set up a kitty for the weekend so no one will be financially embarrassed when it gets to their round.
On the Night
On the night itself or at the beginning of the weekend run through the timetable of events when the group are first together, giving specific times for the activities and names of any Restaurants or Nightclubs.
This is also a good time to introduce everyone, particularly if it's a large group. Get some commitment to you all sticking together and not breaking off into smaller groups, and, also, remind those attending who the weekend is for. The Hen should be the centre of attention at all times!
Themes and Forfeits
If there are any Themes or Forfeits on the agenda, make sure all understand how they're going to work. Also, allocate one member of the party to organise and collect all the photos so the bride can have a memento of the celebrations.
Effective ideas for Hen party themes:
Police Theme
Naughty Nurses
Angels and Devils
School Girls
Fancy Dress
Dressing-up & hen night fancy dress are not the only essential elements to any Hen night. Transforming yourself for a night makes a fantastic ice-breaker and helps the more shy members of your party to let their hair down.
The most effective hen night themes are those that reflect the true nature of the people attending, or exaggerate aspects of their personalities for comic effect.
A hen party is an opportunity to have fun as well as an excuse to dress up and act out your fantasies. people will judge you by the outfit you are wearing so choose something that you are comfortable with and which reflects your true character.
If you are going to do full fancy dress for your Hen Night or Hen weekend, make sure in advance the pubs and clubs you are planning to visit will let you in to avoid disappointment. Alternatively, keep it simple with party wigs, flashing sashes and Hen Night badges only!
Be Prepared
Be prepared for the unexpected and make sure you have everyone's contact details. If you are heading overseas for your hen do, and you are the organiser, a good tip is to get photocopies of everyone's documents and keep them safe. There's always the chance that at least one member of the group will lose her passport and ruin your entire weekend.
Finally, liaise with the best man. The last thing you want is to find out is that the hen night is at the same venue as the stag night….. unless, of course, that's the plan all along!