Hints and tips for planning live music for your wedding day
First things first – what's allowed?
Before you even start thinking about booking live music ask if your venue has any restrictions or guidelines regarding live music. The most important questions to ask are:
Is amplified music allowed?
Some venues (particularly historic houses) say that they will only allow "acoustic" music.  However each local authority interprets the entertainment licensing laws differently, so ask what this really means. It may mean that the venue is not allowed any electrically amplified instruments at all, or that it's OK to use a small amount of amplification (such as amplifying a singer's voice to match the sound level of another acoustic instrument like a saxophone).
Is amplified music allowed out of doors?
Patios and gardens are obvious choices for drinks receptions during the summer, but some venues are not allowed to have amplified music of any kind played out of doors. This again relates to how the entertainment licensing laws are interpreted. If in doubt, ask!
What time must the music stop?
This varies from venue to venue and may even change on different days of the week! It's important you know this because if you book a band to play for three hours from 9.00pm and the venue has a "stop playing" time of 11.30pm, you could lose half an hour of music you have paid for.
What space is available for a band?
The venue will be able to give you details of the available space and perhaps a floor plan too. If your chosen ensemble hasn't visited the venue before and you are unsure whether they'll fit into the space, see if they can visit the venue beforehand to check out the space available, or phone the venue to discuss the available space before you book them. If they are an experienced professional group they should know how much space they need and be used to talking to venues.
Will the band have to plug into a sound limiter?
Some venues have sound limiters to cut off the electricity to the group's amplifiers if the music becomes too loud. Some bands don't like to plug into these because if the power is cut off, it wrecks all the presets they have set up in their equipment (particularly pre-recorded backing tracks). This raises a couple of questions … the band might be extremely loud (not great for conversation, which is a big part of any wedding) and do you want a band that relies on pre-recorded backing tracks? It doesn't mean the band won't be any good, but their performances may be very loud and not as "live" as you first thought.
What can live music do for my wedding?
Live music can create a wonderful background and atmosphere for any part of your wedding day. Everyone is so used to music coming from iPods, CDs etc… that it is a real treat to experience something "live" … particularly if the musicians are performing just for you! Decide which part of the day you'd like live music for and think about the sort of atmosphere you would like to create.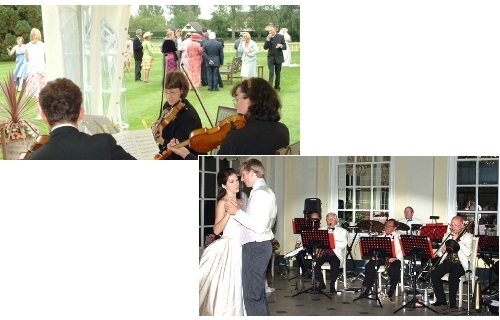 The Ceremony
Walking down the aisle to the accompaniment of live music will make any girl feel like a fairytale Princess! A fantastic way to make a "big entrance", this will set the scene for the rest of the day. You can either get your musicians to play as your guests arrive (a lovely way to welcome friends and family) or have them play first of all as you make your entrance (which probably has more impact). It's up to you. You could discuss the pros and cons with the groups you are considering – it may help you to decide which group to book.
Check with the vicar or registrar about any restrictions regarding the music that can be played during the ceremony. You can't usually have religious music at civil ceremonies, but the rules have been relaxed recently, so double-check this with your registrar.
What style of music you choose will probably depend upon your choice of venue. If you are getting married in church you could opt for the church organ but you could consider having other types of live music in the church too. If you are having a civil ceremony then you've probably got more flexibility with styles and the musicians could play afterwards at the drinks reception too.
Talk through your ideas and any concerns with the groups you are considering – again this may help you decide who to book as you learn more about their experience and the way they respond to your ideas and wishes.
The drinks reception or during photography
Live music during your drinks reception and photography is great because it keeps guests entertained whilst you are busy with wedding photography, is a good talking point and creates a relaxed atmosphere.
Whatever you choose shouldn't be too loud (you don't want to drown out all conversation) but still needs to be interesting and uplifting. Weddings are a joyous occasion and the music should reflect this and also appeal to a broad range of tastes and age groups.
Dining
Background music is a classy accompaniment to dining and is a good conversation point, which is useful if you have guests sitting together who don't know each other very well (they can talk about the music if nothing else!). Again the music shouldn't be too loud, and appeal to a wide range of ages.
Evening Party
This is probably the biggest challenge of all. You'll need to think about what you want to achieve – do you opt for something that will suit your more lively guests or something that will appeal to the majority? Many people may want to dance, but perhaps not all evening. You may have guests who want to do some more traditional dance styles (waltz, foxtrot etc…) Some of your guests might just want to sit and chat, so it could be better to have something that you can dance to but that is also good to listen too as well. If you're really pushing the boat out you could consider having live music and then have a disco afterwards for those lively souls who want to carry on dancing all night long (venue permitting).
Discuss the options with your partner, friends and families before searching for groups who could possibly help you.
Timing
The best advice is to book in plenty of time!
Start looking at potential groups as soon as possible, as some will get booked a year or more in advance. To ensure you have plenty of choice, ideally give yourself at least 8 months before your wedding day.
Information gathering
Ask bands and ensembles to send you information, demo CDs and quotes for you to evaluate. Websites are good for gathering information but you can probably tell a lot more about a group by the information they send to you.
Listen to the CDs, read through all the information and review the play lists to see if they can play the type of music you want. Some bands have set play lists (probably playing a standard set of numbers for most of their performances), whilst others are more flexible and you'll be able to choose specific tunes from their play list.
You may want a particular piece of music to be performed, but don't automatically assume that the group will be able to play it. If you do want a particular number make sure you ask the group well in advance – perhaps even before you book if it is especially important to you.
Ensure you have a written quotation, covering everything – the band's fees, travelling expenses etc… Some bands may charge extra for PA equipment or lighting, so make sure your quote includes everything you need.
Check the band you like is available.
Advice on selecting a band
Choosing a band can be tricky because there are loads of groups – some are amateur, some call themselves "semi-professionals" and there are the true professionals. There will be a difference in performance and service standards between all of these, with the professionals obviously coming out on top due to their greater level of training and experience.
If you opt for an amateur or semi-professional group it might be absolutely fine, but it's not unheard of brides doing this only to be let down near the big day because the band has broken up, they have taken on a more lucrative engagement at the last minute or on the day they do not offer you the level of service you were hoping for. This is far less likely to happen with professionals who rely on music for their living, and should give you a better performance, better level of service and far greater peace of mind.
Whatever band you opt for they should issue you with a written contract well in advance. Ask them to confirm that any electrical equipment is fully tested and that they have public liability insurance. Some venues may also ask to see the group's Health and Safety statement too.
Choosing the music
Once you have a written contract and have received confirmation of the booking you'll need to finalise what the musicians will play for you. If you're having background music, then the choice of individual tunes probably isn't so vital, but you'll definitely want to choose the music for the ceremony or your first dance. You'll probably have plenty of ideas in mind, and your bandleader should also be able to offer advice too.
© Sarah Stevens, The Mad Hatter Bands
Sarah is a partner in The Mad Hatter Bands who are specialists in arranging live music performances for weddings and events all over the UK. The company, which has been established for over 10 years, is run by Sarah and her partner Robert Stevens. They work with a team of dedicated professional musicians with who they have known for many years. Unlike many agents, Robert is also an accomplished working musician and therefore fully understands the pitfalls that many less experienced agents tend to overlook.
The Mad Hatter Bands
Phone: 01869 245357
Web: www.themadhatterband.co.uk
Download a brochure here (PDF)
If you need advice about choosing the music for your wedding then please get in touch and we'll try to help you.
© images are copyright of Robert Stevens www.themadhatterband.co.uk