Marks & Spencer Bridal and Occasion Wear
When M&S launched their bridal range it caused quite a stir and although the collection was somewhat limited the range of stylish yet affordable wedding dresses and formal occasion outfits was a big hit with budget concious brides. For some unknown reason M&S decided to drop the range in 2011 but have continued to stock a selection of bridesmaid dresses, men's wedding suits and kid's wedding outfits within the Autograph Occasions brand which remain just as popular as when they were first introduced.
Autograph Occasions Bridesmaid Outfits
Those of you looking to kit out the bridesmaids will be heartened to know that the Autograph range is still going strong with a range of fashionable and stylish bridesmaid dresses from £69 to £99 in a range of colours and sizes ranging from 8 to 22.
Prom style dresses have a timeless style and are always a popular choice with adult bridesmaids. The Autograph Jacquard Floral Prom in gold mix fabric is a classic that looks great on its own or even better adorned with a few choice accessories. If you want a selection of colours then the Autograph Occasions Sleeveless Satin Prom is a chic and contemporary dress that comes in peacock green or a deep red. Check out the video as the image alone doesn't do this frock justice.
If the longer slender style of a maxi is for you then the V-Neck Button Back Maxi Dress comes in a choice of 4 delicious colours. Or what about the Autograph Satin Strapless Dress – a chic evening style dress in dark rose, with detachable straps provided if you so wish.
more »
Autograph Wedding Suits for Men
Traditional morning suits are usually too expensive to buy outright and the cost of hiring for the day is usually a lot more affordable. However, if you are considering buying formal wear for the men then these Autograph suits are not a bad option.
This men's black morning suit is made from a wool blend and comes complete with matching pin stripe trousers to complete the look. This suit is also available in traditional grey – again with matching trousers for £199
Marks and Spencer Wedding Outfits for Boys
When it comes to dressing boys up for a wedding most parents face a mighty battle on their hands! Boys love slobbing around in their jeans and t-shirts and absolutely detest getting dressed up no matter who it is getting married! Fortunately the Autograph range includes a selection of outfit ideas that are not too formal and can easily be adapted for other occasions.
This gorgeous Autograph boys tuxedo suit really does match up to James Bond's suave style. It has an ultra trendy one button jacket that is fully lined; a very smart, crisp white shirt with a pintuck bib feature and comfy trousers. And of course it comes complete with a bow tie.
Alternatively, for a less formal look, this boys 3 piece suit set is just as charming and makes him look quite the man about town! It comes with a tie and has a small breast pocket for his hankie or boutonniere.
Older boys can be just as difficult as younger ones when it comes to dressing up smart. But once again Marks and Spencer seem to have predicted the furore and so have designed a range of suits that are not only cool but lightweight and comfy like this Autograph boys suit jacket made with pure linen so that it doesn't itch or irritate the skin. It's smart enough for occasion wear yet versatile enough to wear with jeans when he wants to form his own band!
Boys wedding wear needn't be confined to dark suits, a black suit is livened up with a light waistcoat such as this Autograph waistcoat and shirt set. It comes complete with a formal white wing-collared shirt and matching tie.
Marks and Spencer's older boys formal wear also has a wide range of waistcoats, shirts, suit jackets, trousers and accessories so you can mix and match or perhaps compromise with them by letting them choose their own shirt. All are from their high quality Autograph range so you can rest assured that their suits should see them through more than a few special occasions.
M & S Autograph Wedding Outfits for Girls
Girls are so much easier when it comes to dressing them up in their finery. They love the chance to wear their posh frocks and I don't know any little girl who isn't excited about the prospect of attending a wedding! Marks and Spencer have a range of adorable occasion wear for girls that will make them feel every inch as special as the bride – all you have to do is decide which outfit to go for!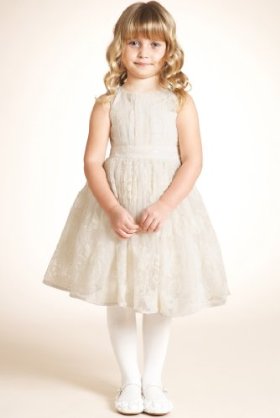 Little girls love living the fantasy princess dream so why not give them the chance to be a real princess for the day? This exclusive Autograph Round Neck Floral Embroidered Dress is an absolute dream! It comes in delicate pink or ivory and is fully lined.
Older girls may have grown out of the fairy frocks you used to dress them in when they were cherubs, but they still want to feel like princesses.
Marks and Spencer will be adding more lines later in the year (usually from the end of March) so watch this space for further details…