Personalised Wedding Cake Toppers
Handmade, personalised wedding cake toppers, where to buy them and what's involved?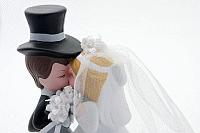 The tradition of the wedding cake topper dates back many years, but the trend to personalise them is fairly recent. Now for around £80 you can have a unique and memorable souvenir of your most special day that you can keep and treasure forever.
Some couples still choose to adorn their cake with the traditional Bride and Groom Figurines. Although many are now opting for something more original and unique to themselves.
Where to Buy?
There are now quite a few people engaged in creating these little fellows but where are you likely to get the most satisfying result?
I've noticed a few enterprising individuals are now jumping aboard this bandwagon, and some of these may well offer good value. But a few names always seem to get mentioned more than any others. These are:
So What's Involved?
Once you've found a designer that you like, you need to send them a photo of the marrying couple together with any other information such as your occupations, hobbies, theme and so on. This will help your designer to create a cake topper which is unique to you.
You need to do this well in advance of your planned wedding day – especially at peak times between the months of March and September. Once you have agreed the look of your topper, it will be scheduled into the designers' diary for completion a few weeks before your wedding day. You will then be sent a photo of your completed topper before it is despatched.
Googly Gifts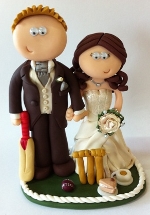 One of the original producers of personalised cake toppers, Helen at GooglyGifts has been selling toppers on-line for many years and her work has even been featured on TV shows You are What You Eat and The Jeremy Kyle Show.
Toppers can be ordered in a variety of styles and poses – each personalised using a photo and from details submitted via a simple questionnaire; with extras including props, children and pets available upon request.
Helen has recently re-launched her site, having taken time-out to live abroad, and is looking forward to producing some more customised wedding cake toppers. Helen is also planning to offer more personalised products and will be adding these to the range later in the year .. see the site for more details. One such range is her Indian wedding cake toppers which has its own site too.
Feats of Clay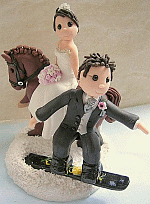 A popular cake topper artist, and relative newcomer, is Sarah Shorter of Feats of Clay. Sarah says: "I started in January 2007, with a view to making toppers for Birthdays, Christenings, etc…but decided to make my first Wedding Topper in March 2008 and since then I've been fully booked!"
With regard to ordering, Sarah says "If possible, during the summer, people would need to be aware that they need to contact me at least 2 months before their wedding? I'm already taking orders now for this year!"
In summary, Sarah says "Overall it's been a great year. From being a 'stay-at-home' Mum to three children, I've found a job I love doing, am able to do from home, and have met some lovely people along the way!"
Artlocke Designs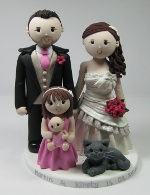 Artlocke Designs is run by Cheryl Locke. Cheryl has been making toppers for quite a while and is an artist who is often recommended and always busy.
Cheryl says: "I ask that people get in touch at least 6 weeks before their wedding as I have a waiting list throughout the year, although I will try to accommodate people who have less time. I try to send out the completed toppers 2 to 3 weeks before the wedding day and I send a photo of the topper before it's baked and afterwards, also, for final approval."
"I make cake toppers for any occasion – Weddings, Birthdays, Christenings, anything you have in mind. Yes anything is possible!"
To contact Cheryl, and to see her extensive gallery of personalised cake toppers, go to:
Character Creations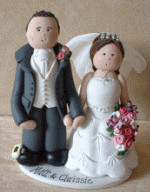 Sarah Pitcher from Character Creations says "I have been making these toppers since Jan 2006 and never realised there would be such a demand for them. I would like to think the figurines keep improving, as with any new venture you learn as you go along".
"The demand is finally dropping after a very busy summer season. I am now getting orders for next year and would recommend that couples wanting a cake topper to book in as soon as possible so they have a space and then send their details and photos at a later date".
On a personal note, Sarah says "Making the toppers from home and being my own boss is very rewarding. People really appreciate the time and effort that goes into making the toppers and the best thing of all is getting feedback from happy customers when they receive their little look-alike people".
Weston Super Models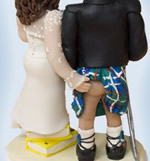 Weston Super Models is the creation of Sue Weston. Sue has been making models in one form or another since she was six years old.
After studying for an HND in Art, Sue started experimenting with Fimo clay by making life-like figures. She was soon being asked to make models for other people. Things progressed from there… and after selling her characters successfully on eBay, Sue progressed to running her own website and she now produces unique toppers for couples throughout the UK as well as Australia and the US.
Sue says: "I have received a few interesting requests, including snow boarding and surfing. The funniest though are requests to have the bride feeling the groom's bum or vice versa. This is becoming such a theme, that I may have to dedicate a page on the site to it!"
Sue has recently ventured into making celebrity look-a-like figures in order to enhance her product range and has recently completed a figure of Amy Winehouse.
To see more of Sue's work or to enquire about a unique topper of your own visit her website at:
More Suppliers
About the Cake Toppers
These personalised cake toppers are made from Fimo Polymer Clay – hand made from scratch so no moulds are used. Once fired in the oven they turn into a hard plastic material which is non toxic and everlasting! This would make a lovely keepsake after your wedding day.
They are approx 5″ (127mm) high and will stand securely on your cake on their own, or you can order base for them to stand on at extra cost. They are NOT edible & unlike sugar figures will never go mouldy or deteriorate over time. Fimo polymer clay is 100% non toxic & conforms to ASTM D 4236 (Art & Creative Materials Institute, Inc.) ACMI
You can have your wedding topper in any pose. For example – sitting, dancing, holding hands, etc. The finished toppers can resemble clothing, flowers and hairstyles, and you can include extra figures, pets, etc for a small extra cost. The creative process takes anywhere from two days to craft a bride and groom to a week to include extra figures.