Getting Married in Church – Religious Ceremonies
A Traditional Church Wedding – A Guide to Religious Wedding Ceremonies
A marriage can take place in England and Wales in an Anglican Church or in any other religious building that is registered for the solemnisation of marriage.
In an Anglican Church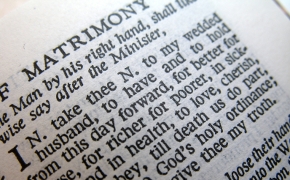 If you wish to be married in the Church of England or Church in Wales – and generally you will be able to do so only if you or the other party live in the parish – you should first speak to the Minister.
If he agrees to marry you he will arrange for the Banns to be called on three Sundays before the day of your ceremony or for a Common Licence to be issued. There is usually no need to involve the local Superintendent Registrar.
Other Religious Ceremonies
If you wish to marry by religious ceremony other than in the Church of England or Church in Wales, you should first arrange to see the person in charge of marriages at the building.
However, the church or religious building in question must normally be in the registration district in which you or the other party live. It will also be necessary for both of you to give formal notice of your marriage to the superintendent registrar of the district where you live.
A registrar may also need to be booked from the register office in the district where the marriage is to take place in order to register the marriage.
** Please note that for a religious marriage, other than in the Church of England, Civil Preliminaries must be completed. Please follow the guidance given under Civil Marriage on how and where to give notice, the residential qualifications and the documentation required.
Common Questions
I haven't been baptised and I don't go to church, can I still get married in church?
Yes! If you live in the parish of the church you want to marry in. If you are not a regular worshipper you will normally be expected to attend services for a time before becoming eligible to be married there, but speak to the Minister or Vicar first as policies vary from parish to parish.
I heard that you can get married in any church you want to now. Is this true?
The Church of England is exploring ways of making it easier for couples to get married in a church outside their parish. An example might be the parish you grew up in or where your parents live. However at the moment, if you want to get married in a church that is not your parish church you will need to talk to the Minister there.
Can we marry on a Sunday?
Although you have the right to get married in a church, the time of the service is decided by negotiation with your Minister. It must be between 8am and 6pm and not clash with other services. Therefore you can get married on a Sunday provided it is not at a time of the normal Sunday services and the Minister is willing to do it.
How much does it cost to get married?
Cost of religious ceremony in the Church of England or Church in Wales – please check fees with the Minister of the church in which you are planning to marry. As a guide the Church of England's current published prices:
Publication of banns of marriage at the church where you will marry – £22
Having your banns read at the home church – £22
Banns certificate – £12
Marriage Service £262
Cost of marriage certificate – £3.50
Total Cost – £321.50
How do I get a copy of a marriage certificate?
You will receive your marriage certificate straight after the ceremony. If at any stage you require another copy, you can apply on-line or via a register office, in person, by post or fax. Certain conditions apply, further information can be found here
Useful Links