Rule Britannia Wedding Theme
Deciding on a theme for your wedding, from the outset, can add a unique and stylish slant to your wedding day. Themes can be anything from the colours you want to incorporate to a subject you love. Whatever you decide, your choice will be reflected in everything associated with your wedding day and will inform your guests of the type of wedding they can expect! I've put together three articles (Rule Britannia, Butterflies and Vintage) highlighting themes I adore to help inspire you to create a wedding theme that will rock your world.
With the Royal Wedding consigned to the only very recent past and the 2012 Olympics around the corner, Britain has never looked so good. For the confirmed Anglophile, the Rule Britannia wedding theme is perfect for showing your love of all things quintessentially British. All about the red, white and blue, flags and London iconography, Rule Britannia is a bold, colourful way of celebrating your wedding and your favourite country.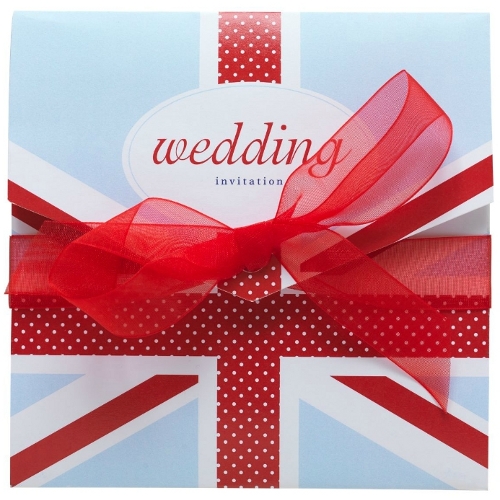 Kick start your wedding planning by choosing your stationery; either incorporate the colours of the Union Jack or feature the flag itself. Make a statement about your wedding right from the beginning and get your guests involved with a request for colour-coordinated outfits. Invitations are available in contemporary to more traditional looking designs, finding one that suits the tone of your wedding should be a cinch.
I've said it before, but it's worth saying again; your wedding dress doesn't have to be in a neutral palette, with the Rule Britannia theme it's all about colour, colour, colour. If you're not comfortable with a full dress of colour then look in to a two-tone dress or accessories that feed in to your theme. The idea is to lift your outfit with the bold colours, not overwhelm you, so choose something that gives you a comfortable balance. If you had your heart set on wearing white, add that colour lift by dressing your bridal party in the colours of your theme instead. The contrast between your dress and the bold colours of your Bridesmaids will make you stand out from the crowd!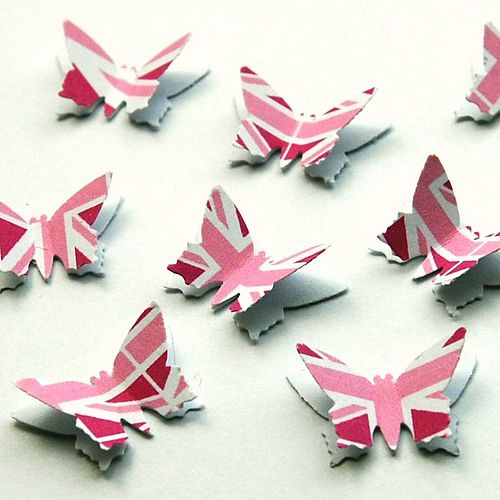 Flowers and decorations are the other obvious way of tying in your theme to your wedding day and can be adapted to suit any budget or taste from kitsch to afternoon tea at the Ritz. Artificial flowers will produce the best colours, but if you're going for bold and vibrant then ensure they're not lost against your dress if you've chosen coloured fabric. Cake toppers, mini flags, napkins and name tags will look great on the tables if they all feature the Union Jack.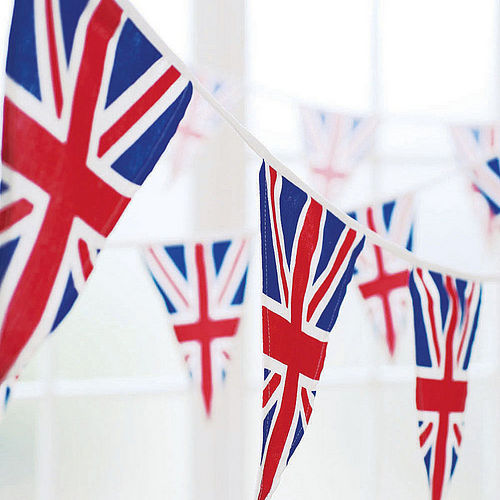 Deck the halls with some flags and bunting, plump up your Union Jack cushions, and put bowls of mint humbugs and liquorice allsorts out for your guests to nibble on. Pick those things that make Britain so special to you and share them with your guests. And if you're a staunch Monarchist, there's a cardboard cut-out of the Queen with your name on it; go bold, go British!