How far would you go to get your dream dress?
Finding the perfect dress can be a stressful time and sometimes it is easy to miss a bargain but for some young brides in the US this isn't a problem – they just need to run fast and have sharper elbows than everyone else!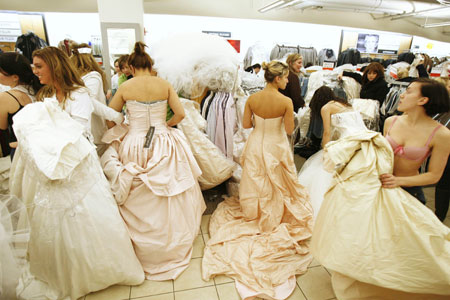 Every year hundreds of brides-to-be in the US queue overnight for an event known as The Running of the Brides which is held at discount retailer Filene's Basement.
The doors are opened at 6am and the brides race to the racks and grab as many dresses as they can. There is little time to make a considered choice and, because many of the gowns are designer dresses which have been drastically reduced, there is always a lot of trading to be done afterwards.
The event takes place annually at the company's stores in Columbus, New York, Boston, Atlanta, Chicago and Mazza DC and originated in 1947.
The original event was a much more sober affair and started as a regular one-day-only sale. Nowadays over 2,000 dresses are sold on the day from $249 to $699 having been marked down from prices of up to $9,000. The company are not permitted to advertise the designer names on offer but it is an open secret that all of the big names are represented – hence the excitement!
Related links