Whether you are opting for a traditional or a less formal event then the most important components of your wedding day wardrobe will be the footwear you choose to wear.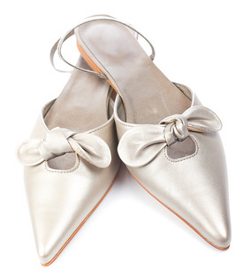 It's worth taking some time over selecting your wedding shoes as not only must they compliment your chosen outfit and look spectacular, they must also be functional and, above all, comfortable! You will be on your feet for much of the day and it's therefore very important that you find a shoe with a good fit.
Once you find the perfect pair of shoes you will probably want to keep them in pristine condition for the big day. Whilst this is understandable it's also a good idea to wear your shoes as often as possible before the wedding to ensure you get the most comfort on the day itself.
To stop your shoes becoming scuffed while you 'break them in' ensure that you only wear them indoors and use an old sock as an outer covering (it may look a bit odd but will stop them from getting marked). For leather shoes, apply a little neutral colour shoe cream as soon as you get them. This will help to soften the leather and it's a good idea to repeat a couple of times before the day.
BHS Wedding Shoes
Always popular with the budget concious bride the BHS Wedding Collection is one of the most extensive high street bridal selection with a good selection of colours, styles and a wide size range. The BHS Wedding Shoe collection comprises over 100 styles from toddler bridesmaid shoes, sandals, courts and heels ranging from £10 to £55 to suit the bride and her bridesmaids.
Coast Wedding Shoes
There is one company that manage to combine the WOW factor in all their shoes as well as making them comfortable and at reasonable prices. Coast are becoming well known for their stylish and glamorous footwear and when you see the examples below you'll understand why most brides and bridesmaids opt for Coast to provide their wedding shoes.
Faith Wedding Shoes
Faith Bridal Shoes are back by popular demand! These stylish and fashionable shoes were always a favourite with image conscious brides and with Faith wedding shoes now available exclusively at Debenhams they are bound to be in huge demand once more! Taking inspiration from the catwalks and designing well heeled shoes for the bridal market, Faith produces some iconic and stunning footwear!
All of the Faith shoes are made with high quality real leather so that you'll be dancing, not limping, down the aisle! And with such stunning designs and elegant features you may want to swap that long Kate Middleton dress for something shorter that'll make your shoes the highlight of your wedding outfit!
Rainbow Club Designer Bridal Shoes
Designer shoes have long been associated with stunning quality and design – just think Jimmy Choo, but until now many of them have also proved unwearable for long periods unless you happen to be Victoria Beckham. However Rainbow Club are specialists in providing gorgeous shoes that are as comfy as your pair of old slippers. So how do they do it? Their Head of Design has worked with top designer Jimmy Choo and has 20 years of experience producing the finest quality of shoes. She lends her professional expertise to ensure that each shoe is unique and utterly chic and stylish. Her designs are then handmade from only the highest quality of materials to give you the perfect fit – like slipping your foot into a soft leather slipper.
Their award winning wedding shoes are only available through selected stores so you know that when you choose your perfect pair, it'll be like choosing shoes that were made especially for you, particularly when all Rainbow Club wedding shoes can be hand dyed in a colour to match your outfit.
Wedding Shoes at Scuh
Our favourite shoe retailer with a great selection of own branded wedding and occasion footwear as well as one of the best selection of fashion brands on the web. Schuh offer fast free deliveries on all orders over £14.95 or you can collect your order from any Schuh store in the UK.
Stylish wedding shoes are not made to be hidden under wedding dresses, they are made to be shown off so make sure that you take every opportunity to do so and don't surprised if the shoes receive just as much attention on your wedding day as you do!