Tips On How To Have A Great Wedding
There would be a point on your wedding planning that you would feel that you are already on your wits end. Sometimes you just need to step back and relax a bit before you start to plan again.
And Claire Coulson gave some tips on just how you could have a great wedding.
Caroline Burstein offers her tips. She is the creative director of Browns fashion boutique and the founder of Browns Bride in London:
1. Keep an open mind. Often, women have a very fixed idea of what they want and can then be disappointed when they can't find exactly that. It's an occasion that happens only once in a lifetime (hopefully) and because of that you are thrown into a situation that you have never experienced before. Very often something that you think is "you" invariably isn't because of the pressure of the situation. It's good to know what you want, but for a wedding dress it's important to be open-minded and consider other ideas.
2. Invest in perfect underpinnings. A tall, athletic girl can wear a backless dress and all she will need underneath is a pair of seamless knickers, but many girls need more. We often recommend that brides have a specialist bra or corset made. We have a corset-maker who can make a corset to which the dress attaches. There is nothing worse than feeling uncomfortable, worrying that the dress is going to fall down and spending the whole day hitching it up.
3. Have your dress fitted properly. Just as a well-fitting bra makes a big difference to your posture, so does a well-fitting dress. I find it fascinating when I see girls dressed in jeans and trainers who, as soon as they put on the right dress, gain composure. A good dress and a good dressmaker help you do that. You don't want to slouch up the aisle.
4. Make sure the dress matches the wedding. The style of dress very much depends on the venue and how the bride wants to feel. Brides often want a slinky, strapless gown but all their girlfriends will probably be in slinky slip dresses. And you don't want to be mistaken for a guest. Try a big dress and see how you feel in it. Today they are more lightweight and less cumbersome than they used to be.
5. If you're on a budget, keep it simple. Spend your money on good-quality fabric and a dress that is well cut. Buying a vintage dress is a way to get beautiful fabric without the cost of a contemporary designer (have it adjusted to fit with a good dressmaker). Sample sales are good places to pick up dresses with large discounts. Buying something off the peg from ready-to-wear collections also saves a lot of money. Chloé always has beautiful white and off-white summer dresses that you can dress up with jewellery, and Roland Mouret's bridal range starts at £1,600, which is good value for money if you want to make a real impact (from net-a-porter.com ).
MAKE-UP
Arabella Preston is a make-up artist. She works on fashion shoots and with high-profile brides including the Duchess of Cambridge, who had lessons with Preston ahead of her wedding.
1. It's all about good skin. In the lead-up to the wedding, focus on skincare. Have regular facials and, in the week before, do a daily gentle exfoliation to get rid of any dry skin. Don't do any treatments you haven't tried before in the two weeks prior to the wedding – you can have all sorts of reactions, especially if you are stressed. But if you have
gorgeous, glowing skin everything else falls into place.
2. Keep make-up light. I always spend the most time getting the base perfect and, most importantly, keeping it light. I use Nars Pure Radiant Tinted Moisturizer (£28, narscosmetics.co.uk ). It has SPF30 so is great for a summer wedding if you're going to be outside, but it's also light and hydrating – it's a good youth-boosting foundation. You don't want to look like you're wearing a mask of foundation.
3. Get eye make-up right for pictures. A lot of people think their wedding photos are all close-ups but most are three of four metres away. You need some definition around your eyes to make them stand out. A lot of my brides get semi-permanent eyelash extensions (see blinkbrowbar.com ). You don't need mascara if you have enough of them, and they look more natural than false lashes. Use a good eye pencil such as Bobbi Brown's Long-Wear Eye Pencil (£18, bobbibrown.co.uk ). You could also
do what we call "tight-lining" on the eyes – getting eyeliner right into the roots of the lashes. It doesn't look like a liner but it gives you definition. Brows are important too – make sure the arch is defined to give a little lift to the eye area.
4. Hair is important and, in many ways, harder to get right than make-up. The best styles are just a tweak of what the bride might usually do with her hair. An "undone up-do" – a loosely swept-up style that has hold but also enough movement that you can let your hair down for the evening – always works. It's also worth remembering that anything too structured and severe can be ageing.
5. Choose your make-up artist wisely. When I do someone's wedding make-up I'm with them for the two hours before they get married and it's usually just them and their mum or best friend. It's very personal and intimate. Brides should look for someone who is calm, who they like and who is discreet. If you can find someone through personal recommendation it's usually the best way. Have a trial beforehand, and if you are not 100 per cent happy, then try someone else.
FOOD
Margot Henderson is the co-owner of Rochelle Canteen in Shoreditch and co-founder of Arnold & Henderson , a catering company that provides food for weddings and fashion and art events
1. Long tables are better than round ones. The most important thing is that guests enjoy themselves, which is why I'm against tables that are too wide for people to talk across. For the same reason, I don't like flower arrangements that are too high: you need to see each other, pass the food round, interact with those around you. Round tables can feel quite corporate, whereas long tables can add to the visual excitement and the feeling of a special "feast".
2. If you're serving food late into the evening or at night, be sure to choose energy-boosting snacks. You need to keep food nice and straightforward later on. We do Welsh rarebit, which is hugely popular, and bacon buns or even vegetable pakoras. Chocolate brownies are also a really good sugar hit and get everyone going.
3. Save money on equipment and staff. One way of cutting costs is to limit the number of plates you use. You can do a vegetable starter such as artichokes and vinaigrette, then go on to the next course without changing plates. Sometimes we just serve one course and do away with the starter. The equipment hire is a big expense, and it also means more staff.
4. Traditional menus needn't be dull. There's nothing wrong with the classics – I love poached salmon and a salad. You want crowd-pleasing food. Roast sirloin, new potatoes and horseradish, served on platters, make everyone happy. We also do piles of quails. Sometimes people think it sounds complicated and worry whether their guests will like it, but I find that if you give them good food – even something they don't usually eat – they really enjoy it.
5. Sometimes formality is best. I love a table plan. It takes away all the stress for guests. They are comforted by being told where to sit, they can be near partners but also next to friends and strangers, meaning they work a little harder and meet new people. It works for people who know everyone and for those who don't know anyone. And it's always good to mix everyone up.
FLOWERS
Vic Brotherson is the owner of Scarlet & Violet , the florist that created the English garden flowers for Kate Moss's wedding
1. If you can afford it, hire a professional. People don't realise how much work it is doing your own flowers – you need to do the buying, storing and the arranging itself, which is a huge effort. Flowers can die fast if they are not looked after properly. If you can't afford to use a well-known florist, a local one can do the job. Colour is the most important thing: find a florist who creates subtle colour combinations that are more natural and gentle. A busy, functioning florist, like ours, which doesn't only do weddings, will be cheaper.
2. Create arrangements with personality. If you're determined to do your own flowers, then choose plants or do pots that you can plant up in advance. Pot them in vintage containers – zinc dollies, old wooden crates, distressed urns, all of which you can find easily at second-hand shops. Or just use jugs and tureens from the kitchen. Chunky silver candlesticks from eBay look great in the mix, and they don't cost much.
3. Mismatching is more modern. We vary the sizes and contents of the bridesmaids' flowers. The overall tones all blend together but the subtle changes make a big difference. If they all carry the same thing it can look very dull. With ours, all the "evenness" has gone out of the window – it's much more about one of this and one of that, flowers that feel as if they are grabbed and gathered rather than a "ball" of roses.
4. Go for unusual colour combinations. At the moment there's a revival of peachy and apricot tones rather than the traditional wedding pinks. Pair apricot flowers with really dark violets and blacks such as ruffled ranunculus or with pale-blue delphiniums or lilac scabious. Poppies and dahlias are also really good for offbeat colours. For tables, the most simple and cost-effective thing is to have clusters of salvaged bottles, each with a few garden flowers – delphiniums, cornflowers, verbena and scabious mixed with lavender and mint. The trick is to cut the flowers at different heights.
5. Have an idea of what you want, but be flexible. So many people now have Pinterest boards covered in references but often the images are from America and Australia, where the flowers are different to the flowers we have here. You can't have huge dahlias in January. Give your florist an idea of what you want but listen to their advice about what may or may not be available.
PLANNING
Mark Niemierko is one of the country's best-known party and wedding planners. He also runs an eponymous wedding-planners' academy
1. The pace of the day is key. Everyone thinks there is a magic formula you have to follow but you can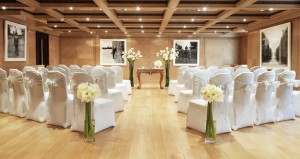 make it whatever you want. A good event is all about the flow and not having moments where guests are standing doing nothing. Don't get married at midday and then drag out the day over 12 hours – this is why most people feel that going to weddings is a chore. Your guests should be left wanting more, not wishing that they could go home early.
2. Liven up the evening with the unexpected. Sometimes we do pudding as canapés. Everyone goes into a pretty "pudding room" where you can cut the cake, then we bring out lots of miniature cakes and tarts, which is good fun, changes the tempo and makes it more colourful. Rather than serving coffee, you can do espresso martinis so everyone has a little lift when they're probably flagging.
3. Good lighting is crucial. Lighting is much more important than flowers. You can have the most amazing flowers, but if you haven't lit them properly it's a real waste. You can transform any space with good lighting and candles.
4. Hire your staff from central casting. People love good-looking waiters. Yes, it's more expensive when you hire staff from a specialist agency but they become a talking point. And you can use them to do other things. I once used two men to stand outside with shears and chop down people's place cards from a seating "tree"! And I have had girls dress up as usherettes and go round the room offering cigars. It's cheeky, kitsch and flirtatious.
5. Keep children occupied. Children can get rather bored at what is essentially an adult event. Get them involved in the day and help them become part of it with age-appropriate activities. If there are children who are part of the family, give them a particular role in the ceremony. At the reception, I'm a fan of giving them a miniature version of what the grown-ups are having on a mini-table. Don't put children in another room or in a separate space – you'll end up with no atmosphere and two different events.