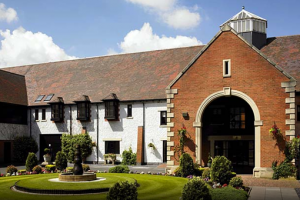 Weddings are one of the most important events in our life. We would only want the best on that day, should the budget permits us. And would it not be more wonderful if we get married in a stunning Manor or Country club dressed up for a wedding like a royalty.
Here are some of UK's stunning manors and country clubs you may want to consider for your wedding day.
Tudor Park Marriott Hotel & Country Club in Kent
A land of castles, canals and cobblestone streets, Kent is known as the Garden of England for its blooming orchards and gardens.
The Tudor Park Marriott, located just 30 miles from London in the heart of Kent, welcomes visitors to Maidstone with a luxurious manor ideal for a country respite, or country wedding.
The Marriott's facilities can accommodate up to 180 guests, and comes staffed with event planners that can help tailor-make your civil partnership or marriage completely yours.
For before or after the ceremony and celebrations, take advantage of the 18-hole PGA Championship Golf Course and the athletic facilities.
Forest of Arden Marriott Hotel & Country Club in Warwickshire
From an intimate ceremony to welcoming 300 guests to the fabulously decorated Marquee, the four-star Forest of Arden Marriott Hotel & Country Club is an elegant country hotel ideal for an outdoor dream wedding.
Located just four miles from Birmingham airport for easy guest arrivals and departures, the Marriott's lush natural landscape and grandiose entrance set the tone for the luxurious accommodations throughout.
The hotel is also one of the top UK golfing destinations with two golf courses and a golf academy, perfect for treating the wedding party to some down-time before indulging in some proper R&R in the Cedarwood Spa.
Dalmahoy Marriott Hotel & Country Club in Edinburgh
The Dalmahoy is a baronial manor turned luxury Edinburgh hotel.
Set among 1000 acres of land with great views of Scottish countryside, the Marriott is only seven miles from Edinburgh city center.
Designed in the traditional grandeur of a manor house and updated with the modern amenities, the hotel features a grandiose indoor pool and an 18-hole golf course.
This Marriott can accommodate up to 280 guests for a wedding or commitment ceremony, all of which will be wowed by the unique and wonderful outdoor setting of Scotland.
For more of these stunning locations, you may want to click here.