Buying Your Wedding Dress from the USA
Do you have your heart set on a designer wedding gown from Alfred Angelo, Maggie Sottero, or Mori Lee but are put off by the cost? Many UK brides are cottoning on to the fact that massive savings can be made by buying their wedding gown and bridesmaids outfits in the US. Is it a Good Idea?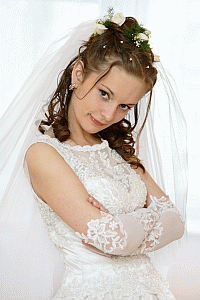 Brides-to-be who want the latest Designer Wedding Gown are now taking advantage of the favourable exchange rate and buying their dress from US retailers such as House of Brides and Best Bridal Prices.
The wedding market in the US is much more dynamic than it is here. Wedding dress retailers are well established on the net and they have massive economies of scale that retailers in the UK just can't match. This alone is reason enough for dresses in the USA being better value, but when you factor in the exchange rate – they become even more of a bargain.
As an illustration: a Mori Lee Dress (2164) retails on US site Best Bridal Prices for $600 – which at today's exchange rate is just short of £300. An 'authorised' Mori Lee retailer in the UK, however, quoted me £750. This is not an isolated example, it tends to be fairly typical.
Bear in mind that you will have to add on Shipping, VAT and Import Duty, which is payable on delivery. VAT is charged at the normal rate (and includes the shipping cost as well). Import Duty is payable on the value of the dress too; the rate depends on the description and type of fabric but is generally 12%.
When your dress arrives in the UK you will receive a note from the courier to inform you that your dress is about to be delivered and the amount of duty you will have to pay. The courier will have already paid the relevant duty and will recover it from you at the time of delivery.
In order to protect their traditional markets, some designers, most notably Maggie Sottero, have forbidden their retailers in the US from selling to overseas customers. However, it's not difficult to find suppliers who are willing to bend the rules?
The Office of Fair Trading say that a customer buying from a UK based internet retailer has greater legal protection than if they bought from a traditional shop. However, when you buy outside the borders of the UK and Europe your level of protection is not so clear.
Many people worry that there is a much greater chance of being ripped-off and if things do wrong then there is less legal protection than in the UK? To an extent this is true, but, in reality, instances of complaints against US retailers are quite low, and often these get resolved by contacting the retailer directly – rather than by any authorities' intervention.
Sizing
Take care with sizing – most retailers have a sizing chart or conversion tool on their site, but if you have any doubts ask them. If unsure you should opt for the larger size, as it's easier to take a dress in than it is to let one out.
Delivery
The biggest source of all complaints is delivery although OFT data suggests that the number of difficulties does not appear unusual when compared to other distance selling channels, and that the types of complaints match those for traditional mail order. US suppliers will offer you insurance cover for shipping problems – in the UK this would be unlawful but, given the complexities involved, it's probably worth paying the premium just for peace of mind.
Internet Auctions
If you buy from an individual you have little legal protection, although when buying from a 'professional' seller your rights are the same as with any other merchant. Bear in mind though that your claim will be against the merchant and not the auction website.
A Few Tips
If at all possible, pay by credit card. If you have a problem then Section 75 of the Consumer Credit Act 1974* means that the card provider is equally liable for purchases between £100 and £30,000.
If you use PayPal your protection will be limited. They are not providing you with credit so are not liable, although they will certainly offer advice and assistance.
Use retailers and services you know about – or ones that have been personally recommended to you.
Once you've ordered your dress in the US, you only have 3 days to change your mind and cancel (in the UK you have 7 days).
Allow yourself plenty of time – if there is a hitch, it could take a while to resolve so don't risk a 'just-in-time' delivery date!
Make sure you know the trader's full address and contact details. Don't assume a company with a '.co.uk' domain is actually based in the UK or that a '.com' domain is based in the USA!
Know exactly what you're buying. Branded items with 'too-good-to-be-true' prices could be counterfeits.
Take into account the shipping, postage and packing costs as well as VAT and Import Duty.
Look for websites that have a secure way of paying – these show a padlock at the bottom of the screen when you are filling in the payment details.
Keep a paper trail. Print and save records of your online transactions, including the product description and price, the online receipt, and copies of every email you send or receive from the seller. If you have followed the advice then you shouldn't have a problem – but if the worst comes to the worst what can you do? * Contact the retailer directly, in the first instance. Most problems are resolved this way.
Report the problem to your credit card provider, or PayPal
Contact Consumer Direct – they will advise you as to where you stand legally and what action you can take. 08454 040506
If you have purchased goods from an American company then you could contact the Federal Trade Commission (www.ftc.gov) or the branch of the Better Business Bureau local to the trader (http://lookup.bbb.org)  A complaint about an overseas internet business can be registered at www.econsumer.gov, an international consumer complaint database maintained by the US Federal Trade Commission. The site also provides general information about consumer protection in all participating countries and contact information for consumer protection bodies in those countries.
Is it Worth the Bother?
If your chosen dress is less then £300 in the UK then no. Also, if you are not blessed with being a fairly standard size then the cost of alterations could well outweigh any potential savings. However, if you are spending more than this, or, perhaps, buying your bridesmaid's dresses at the same time then you could well save a substantial amount of cash and should definitely go for it!
Useful Links
US Wedding Dress Retailers