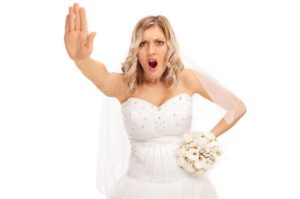 Ok, here's a scenario that plays endlessly in your dreams the closer it gets to your wedding day; the cat runs up your wedding dress and tears it from top to bottom, as you run into the kitchen you collide with the cake supplier who drops your wedding cake all over the floor. On hearing your screams, the groom rushes in, slides in the dropped cake and breaks his arm on the slate floor. It may just be a nightmare for you, but for some couples disasters like these are very much a reality.
When Things Go Wrong
So just what happens when something goes wrong? Of course you can't plan for the weather or the health of guests vital to the ceremony, but with so much hanging on so many different wedding suppliers, are you courting disaster to think that it will all run smoothly? Just take a moment to think about all the arrangements that you will be making; the wedding cake supplier, the caterers, the photographer, the flowers, the dresses, the rings, wedding cars, reception booking, entertainment etc. The list goes on and there is nothing on that list that is not essential to your wedding.
So what can you do should something go wrong? It isn't unheard of for the wedding photos to come out blurred or not at all, as happened to Martin and Heidi Shubrook whose wedding album is full of shots of guests with their heads cut off, people's feet and even complete strangers! There are also the risks of wedding venues being double booked, the dress or suit being damaged, wedding vehicle breakdowns, damage to wedding gifts and even some small firms going bankrupt, leaving you up the aisle without a bouquet, so to speak!
Wedding Insurance?
Some couples think that insuring their wedding will provide them with the security of being able to be compensated at least in case things go wrong, but just how many wedding insurers pay out? And are you insured for all eventualities? In the example of Martin and Heidi above, you would have to pursue this through the courts at your own risk as the legal cover sometimes included with wedding insurance will only cover things like personal injury where the outcome is more predictable and will usually be covered by the trader's own insurance. The quality of service offered by a supplier is a matter of opinion and not one a financial institution such as a insurance company will want to risk money on.
Other common complaints for wedding insurance are the same with any insurance providers. Payouts can take months to be settled, by which time you are married and have had to stump up the extra costs yourselves. And of course what if your insurer disputes your claim? This couple were fortunate to get the media involved in their claim which led to a change of heart by their insurers – you will probably not be so lucky.
Of course not all wedding insurance companies will take ages to process a claim and wedding insurance can offer valuable peace of mind. Just be wary of what you are and what you aren't insured for. Reputable insurance companies may insure you for:
Failure of wedding suppliers to provide their services – this could be caterers, florists, the photographer, the entertainment, etc.
Ruination of wedding photos.
Wedding outfits. You may be insured for replacements in case either yourselves or the suppliers accidentally stain or ruin the outfits.
Wedding rings. Just in case the Best Man loses the rings down the gutter, you'll be insured for brand new ones.
General liability such as damage to band equipment, injury or any accidental damage to property as a result of the wedding.
What they won't insure you for is cancellation due to the groom running off with the bridesmaid or the bride having a change of heart! So do make sure that you read the small print and find out how you go about claiming, how long it takes and just what you will be insured for.
The level of cover will vary from insurer to insure but, as a guide,  this policy document from John Lewis sets out what you can expect.
How else can I resolve issues with wedding suppliers?
Well should anything go wrong you can try to resolve the issues yourselves. For instance, if the caterers serve up the wrong menu, you could try talking to them and asking for a partial refund. Many issues can be resolved by simple communication with both parties willing to compromise. If that doesn't solve the issue then you could approach a third party to help with your dispute.
Listed below are some of the ways in which you get advice and help on resolving a problem with your wedding supplier:
Mediation – Consumers normally need to pay for a mediator which may be more than the refund and/or compensation you are seeking, but you can get a low cost mediator from the government funded National Mediation Helpline.
Arbitration – An arbitrator will speak to both parties and make an independent judgement based on written and other forms of evidence. The decision is legally binding for both parties, so you must be aware that if you don't like the outcome, you cannot challenge it. However it also means that you make an arbitration award legally binding for the supplier. But once again, this can be an expensive option. ADRnow explains the arbitration process.
Small claims – If you take your case to a small claims court you will automatically be offered mediation which is covered by your small claims fee. If you win your court case, such as Heidi and Martin then you are awarded not only compensation but your court fees too. However beware of small companies going bust such as with Heidi and Martin Shubrook, as you may not get the full amount awarded to you and may need to pay a fee to get the court order enforced. More information about taking a wedding supplier to the small claims court can be found on the CAB website.
Avoiding Wedding Supplier Let Downs
The best way to deal with wedding supplier nightmares is to avoid having them in the first place! Make sure that your wedding supplier has a good track record. Ask to see their portfolio and customer comments, check how long they've been trading and find out if your local Trading Standards office have heard of them. A little time spent on research can prevent a lot of heartache and cost afterwards so do ensure that your wedding suppliers are top notch before paying for their services.
Also, there is a reason why more people choose to pay by credit card other than the monthly repayments; Section 75 of the Consumer Credit Act make the card company jointly liable for a bad service from traders. Providing your claim is more then £100 and less than £30,000 you can hold the credit card company equally liable. Just write a letter to the supplier detailing your complaint and send a copy with a separate letter to your credit card company giving both a deadline to act. More information about credit card liability is on the Consumer Direct website. Remember though, if you pay by debit card you are not entitled to this protection.
With any luck all you'll need to worry about on the big day is whether or not your left foot will get in the way of your dancing!
More Information