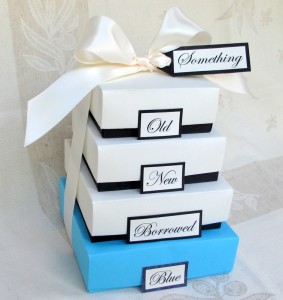 Different wedding traditions are being incorporated by the Bride and the Groom when planning on their big day. These traditions may come from the traditions passed on by each of their family to them.
But, one thing I think most Brides try to incorporate on their Wedding, regardless of their origin is the "Something Old, Something New, Something Borrowed, Something Blue" tradition. Most of Brides I know follow this old saying.
This saying, whose origin is not really known, came all the way back from time.
Something old symbolizes the Brides Past, Tradition and her Family. Brides usually wear a piece of jewelry (i.e. necklace, earrings, ring) worn by her Mother or Great-grandmother even, on the day of the wedding. But it can also be a Wedding Dress or a head piece.
Something new symbolizes the Bride and Groom's optimism towards their new life together. More often than not, the Bride's wedding dress represents this. But it can also be a head piece or jewelry if she is going to wear a dress that has been passed on from generations.
Something borrowed symbolizes borrowed happiness. It is usually something that came from another happy bride. It can also be the same item as the something old. This item can be a handkerchief or a bible perhaps. This item usually is not limited to the ceremony or to the Bride herself. It can be a song or speech as well.
Something blue symbolizes fidelity, purity and love. More often than not, the Bride's garter is the one representing something blue in a wedding. Some also incorporate something blue on their bouquet.
Refer back to our post on bridal garters.