Wedding Trends 2016: Pork Pie Cakes and Pets as Ring Bearers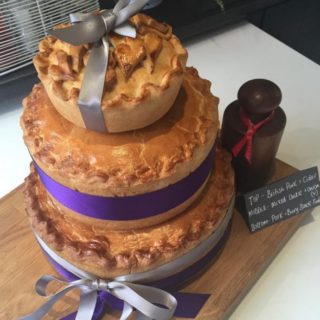 Each wedding is unique in its own way. And wedding couple incorporate little details of their lives to the wedding planning. And through these little details comes the trend that may took over the year.
According to Allyson Lynch of Metro UK's, their recent survey revealed that Pork Pie Cakes and Pets as Ring bearers would certainly be a hit this year.
Pork pie wedding cakes and pets as ring bearers are the big wedding trends this year
A survey of 1,000 couples set to marry in 2016, carried out by wedding venue, Heaton House Farm, has revealed that 2016 will be the year of pet ring bearers, naked and pork pie wedding cakes, live action food stations, street food stands and GoPro wedding footage.
This year, 12 per cent of brides and grooms-to-be plan to give the job of ring bearer to their pet, the survey says.
Although Sarah Heath, Heaton House Farm marketing manager, does advise checking with the venue first if you want your rings delivered on four legs. 'Although some venues don't permit animals inside the venue, they are happy to allow them within the grounds, which could mean those having an outdoor reception are able to facilitate having a pet ring bearer,' she explains.
In cake news, 17 per cent are planning to have a naked wedding cake, while 21 per cent of couples will offer guests bite-sized treats in the form of mini cakes or a macaron tier.
And nine per cent are going for a tiered pie.
Speaking of food, live action food theatre – such as oyster shucking – where guests see the food prepared in front of them is going to be popular – 32 per cent of couples said they were considering some sort of live action element.And food trucks are still a huge trend, with 41 per cent of weddings featuring some sort of surprise ice cream truck, or fish & chips van as a late night treat.
Finally, it's all about the POV wedding this year. 'GoPros and video booths are the best way to capture unique and personal footage from a less traditional viewpoint,' says Sarah.'Photo booths have been around for years but people are starting to realise that they can have a personal and comical video instead of just a couple of snaps.'
One in three couples say they'll be using a GoPro to capture their big day.
Some things, however, will always stay the same. 87 per cent of Uncle Daves still intend to rinse the free bar and pass out in the marquee at midnight.
Are you planning to make your best fur friend part of your wedding? We would love to hear from you.