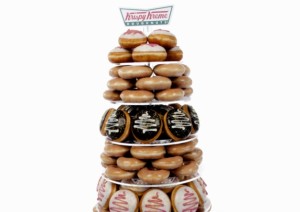 More and more wedding couples are trying to look for something new. Something that has not been used on other weddings before. Something unique. This will make their wedding day really something to remember.
And the new thing wedding couples are turning too right now is Wedding Doughnut. Yes, you heard it right. Doughnuts.
This new offer is being brought by Krispy Kreme. And it is already hitting the capital like a plague.
Krispy Kreme launches wedding doughnut towers
Krispy Kreme has launched a range of wedding towers to let fans mark the big day with their favourite treats.
And the eight-tier extravaganzas are already proving a hit in the Capital with ­couples rushing to book.
Traditionalists can plump for the original tower – with 183 glazed doughnuts – that can be easily elaborated with flowers or wedding colours.
Or those looking for a more extravagant cake can pick their favourite flavours for half the levels, with the sugar rings completing the set.
Roni Hyslop, who runs Edinburgh-based wedding planners All Wrapped Up, said the craze highlighted the move away from traditional weddings. She said: "I think there is so much to choose from ­nowadays. We ourselves offer eight ­different flavours of cake including lemon drizzle cake and jaffa cake.
"You don't have to have the three tiers of fruit, you can appeal to everyone. Traditional weddings don't tend to happen very often any more. Nowadays many couples pay for their own weddings so they don't always want traditional. As they're paying they do what they like."
The popular outlet sold nearly five million of the sugary snacks in its first six months after opening in February, and in addition to speciality doughnut cakes has also started selling festive mince pie doughnuts to customers.
Prices of the wedding ­towers start at £280, considerably cheaper than customers would expect to pay for a three-tier iced fruit cake version.
Judith Denby, chief marketing officer at Krispy Kreme UK, said the towers could be enjoyed at any event.