Alternative Wedding Transport
For your big day it can often be fun to arrive – and leave – in style. Every good princess should have her carriage and those carriages come in all shapes and sizes! Some couples want the wedding transport to reflect what they do for a living; so a farmer may want to turn up with his bride in a tractor. It's certainly one way to stop the traffic and be the centre of attention! Here are some of the most unusual alternatives to traditional wedding transport.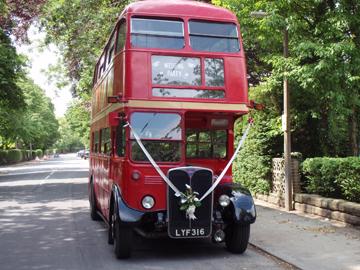 Wedding Buses – you don't have to be a bus driver to hire one of these old London Routemaster buses and vintage buses. They're classic, stylish and sleek and you can often have the destination sign personalised too! It's also a brilliant way to transport your guests between the church and the reception. What better way to arrive for your wedding than by bus – all aboard now! pic: Yorkshire Heritage Bus Company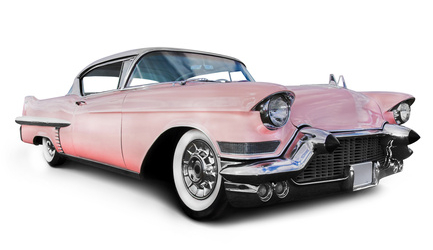 Cadillac Hire – could you get any more stylish than a classic Cadillac? This pink Cadillac is available for hire through most vintage car hire companies along with modern Cadillacs and other classic cars. Stick on some Grease music and turn up to the church in the style of Danny and Sandy! Effortlessly cool and slick, the classic Cadillac is just made for cruising around town soaking up the admiring stares. There's bound to be a Cadillac wedding car hire company near you so google it now and prepare to be the coolest couple in town!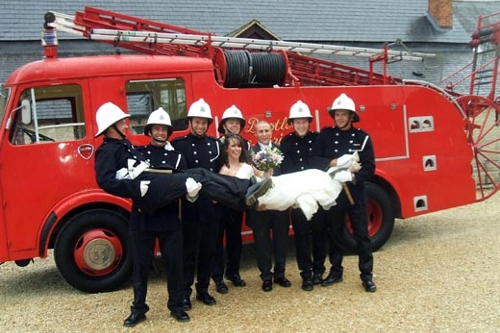 Classic Fire engine – This mode of wedding transport is particularly popular with the brides, although I can't think why! Get a fireman's lift to the church and have your bridesmaids drooling in envy! You could even turn up with the alarm ringing and lights flashing to make it an even more memorable entrance that will delight your guests! There are quite a few companies providing classic fire engine hire for weddings but the one featured in the photo is : Classic Fire Engines
Helicopter Flights – How about this for a grand entrance! Book a helicopter to whizz the bride down to meet the startled groom and guests or celebrate your marriage with a glass of champagne and a helicopter ride to the reception. It's a thrilling experience that will have lasting memories for both you and your guests! So get the VIP treatment that will leave you on cloud nine – literally! Cloudhopperz are one of the professional companies who provide wedding helicopter rides.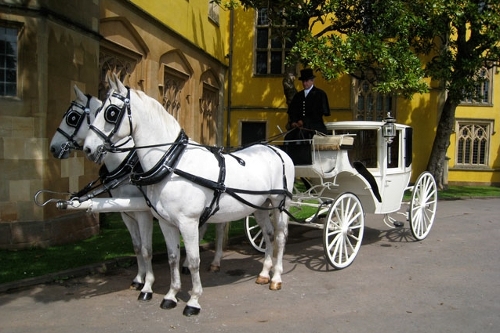 Horse-drawn carriage – If you want to arrive at a leisurely pace in a more traditional way then you can't go far wrong with a horse-drawn carriage. Let's face it, if it was good enough for Kate and William then it's good enough for us! You can even do regal waves at the passers-by as you sip champers in the carriage; very dignified! pic: Ben Ford Carriages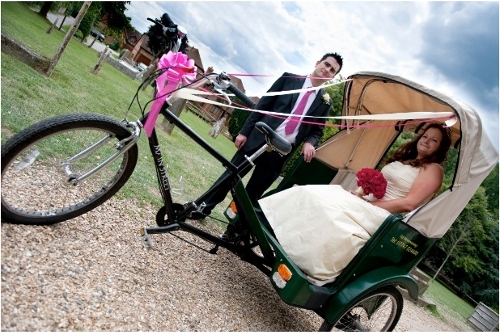 Wedding Rickshaw – After all that planning and preparation you might think that it was high time the groom pulled his own weight a bit – or yours! Sit back and relax as the groom does the legwork and cycles you both to your venue. You can even have your father cycling you to the church and then your new husband cycling you to the reception afterwards. So get taken for a ride and tell them to get on their bike – you wear the trousers now! pic: Oxon Carts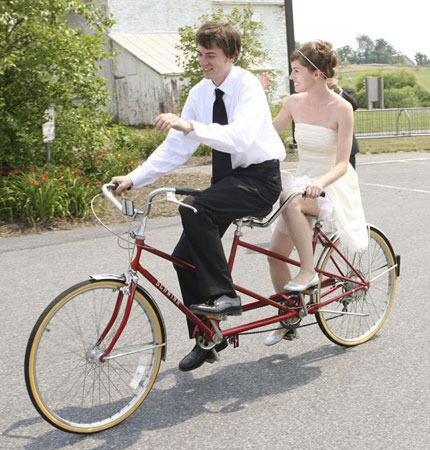 Tandem Bike – or you could both work up a little sweat together on this tandem bike. Perhaps cycling is a mutual hobby or it's how you met, or you just love the fun aspect of doing something a little different together – start as you mean to go on! You certainly would look sweet upon the seat of a bicycle made for two!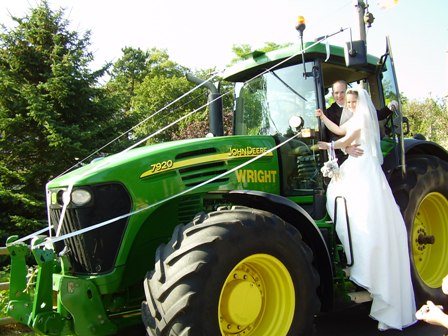 Tractor – Now we don't recommend you get a working tractor that's just finished ploughing the fields for your wedding day, not if you want the dress to stay white anyway! Tractors make a brilliant form of wedding transport and it'll certainly make a change to be in one rather than stuck behind one! It also makes it easier for guests to follow you back to the reception! pic: Field Day
VintageTractorExperience.com – Chilterns
Lifton Farm – Devon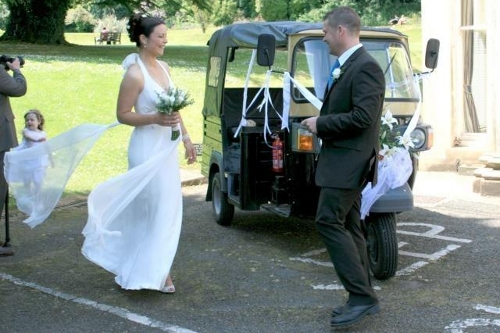 Tuk Tuk – Now for unusual wedding transport surely this has to top the bill? You will have probably seen these in countries such as Pakistan, India, Thailand and Egypt but perhaps not so many in the UK! Bring a little exotic charm to your wedding by hiring this Tuk Tuk to transport you to your wedding. You'll certainly draw a lot of attention on the way but at least parking shouldn't be too much of a problem! I think it's a rather endearing mode of transport! pic: Ricksha's
So why would you even consider a plain old limo once you've seen this range of choices? Not only will you turn up in style but you'll be turning many heads before you even arrive at the ceremony! And just think of the photo opportunities! It's a surefire way to give you and your guests an unforgettable experience that you'll still be talking about in years to come!