How to Book a Hen Weekend in Nottingham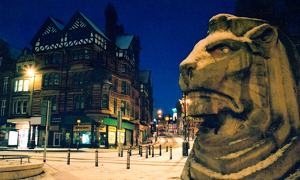 Despite its reputation for having five women to every man (a statistic that is actually 50 years out of date!), Nottingham is one of the most popular Hen Weekend venues in the UK.
Offering an array of restaurants, a vibrant nightlife and plenty of activities in and around the city, the birthplace of Robin Hood is ideal for celebrating the final days of freedom for a bride-to-be.
But for those in charge of arranging the weekend's itinerary, the whole saga can be fraught with difficulty. So to help you get your head around the task, we've provided a step-by-step guide to planning a Hen Weekend in Nottingham.
A DIY Hen Weekend has several benefits. By steering clear of one-stop shop Hen Party companies, you can avoid the mark-up that these self-proclaimed 'experts' add to their costs. Moreover, by choosing the activities, restaurants, and nightspots yourself, you can shop around and ensure you get value for money, rather than bargain-basement options.
How many people
Your first port of call should be identifying numbers. The bride-to-be should provide you with a hit-list of people she'd like to be there. Once received, send out a group email with a set of potential dates. If you know any Excel wizards, you may even want to get someone to knock up a spreadsheet that can be filled in as the replies arrive. This way you can easily pin-point the dates that would allow the most people to attend.
Once you've settled on a date, you should email the group with a provisional itinerary, including location and activities. At this point you may want to ask all attendees to provide a nominal deposit – say £10 – to cover the cost of any drop-outs. The money that remains can contribute to the cost of activities, or be put behind the bar.
Booking a hotel
The big problem with drop-outs comes if you've already booked a hotel for a set number of people. Happily, some hotels allow for payment on check-out and cancellations up to 24 hours before check-in. Two of the three Nottingham hotels we recommend below all have these flexibilities.
Additionally, if you book through Hotels Combined, you can search for multi-room bookings of up to five rooms at a time.
The 3-star Express by Holiday Inn enjoys a prime location, just a few minute's stroll from the city centre – ideal for staggering home in the early hours. This hotel allows for cancellations up to 4 hours before check-in.
The 2-star Riverside Travelodge is located 2 miles from the city centre and is an ideal base for exploring the Nottinghamshire countryside. This hotel allows for cancellations up to 12 noon on the day of arrival.
An adventurous option would be the National Watersports Centre where there is a picturesque campsite as well as a 2-star hotel with 60 bedrooms. The Centre caters for hen parties and offers a range of water-based activities including water skiing, power boating, kayaking and wind surfing. This hotel allows for cancellations up to 2 weeks before.
Which Activities
A favourite Hen do activity is to indulge in the sensual delights of a day spa, and Nottinghamshire is home to one of the best. Eden Salon is housed in the luxurious Eden Hall and offers several packages to suit your tastes. Cancellations are allowed up to 4 weeks before arrival, or 48 hours with a £10 charge.
How about experiencing the thrills and spills of a day at the races? Situated, just 2 miles from the city centre, Nottingham Racecourse offers colour, excitement, atmosphere, passion and drama.
Hen Parties are one of the few chances a girl will get to pole dance in front of a crowd without losing their dignity – because everyone will be doing it!
Twisted Pole offer studio sessions for hen groups and are conveniently situated in the centre of town.
Where's the Nightlife
Before heading out into the bright lights of Nottingham, you'll probably want to have a meal in one of the city's eateries. There is every type of restaurant to choose from, as well as a superb themed venue – Tales of Robinhood – which offers medieval banquets.
And then it's time for the real fun to begin. Nottingham is blessed with an abundance of drinking and dancing hotspots. One of the best is Bistro Live Nottingham at Barker Gate, NG1 which is popular with hens.