UK's Top 5 Glamorous Wedding Venues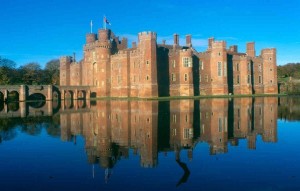 Picking the best place to hold your wedding ceremony is one of the most crucial parts in the wedding planning process. Of course, every wedding couple wants their wedding to be very special as it is one of the most special moments of their life.
And if you are planning to hold your wedding in an elegant style, here is five of UK's best wedding venues according to Jonathan of Anglotopia.
5 of the UK's most glamorous wedding venues
Herstmonceux CastleIf you're looking for a venue steeped in historical charm, turn your attention to Herstmonceux Castle in East Sussex. The moated fortress was built in Tudor times and added to over the years, so it boasts a combination of medieval and Renaissance features.
St James Club
For modern glamour and sophistication, you can't go wrong by looking into St James Club in London as your wedding venue. The prestigious setting has been an integral part of London society for decades and combines traditional elegance with contemporary chic.
Gaynes Park
If you want to hold your wedding in a semi-outdoors setting, the glamorous Gaynes Park in Essex might be the perfect choice. A barn wedding venue, the property is located in the grounds of a country estate, amid rolling parkland.
Highclere Castle
The breathtaking Highclere Castle in Hampshire is famous for its period elegance; the venue is the location where hit TV series Downton Abbey is filmed. The Grade I-listed stately home is built in an awe-inspiringly detailed Jacobethan style and set in acres of sprawling parkland.
Wokefield Park
For a glamorous wedding that ticks all the boxes, take a look at Wokefield Park in Berkshire. The Palladian-style manor was built in the 1700s and boasts a simple, elegant design. The property is surrounded by vast manicured grounds and overlooks a tranquil lake, making it an ideal setting for some memorable wedding photos.