Among the bridal ensemble, there is one such accessory that gives a bride of today a classic, glamorous look that is reminiscent of the vintage era; the birdcage veil. This season is all about birdcage veils coming back; in a very big way. Unlike their traditional counterparts, the long veils which are long layers of mesh or tulle, weigh down and end up getting in the way, the birdcage veils are totally chic, fun and flirty and give an air of sophisticated elegance. These fashion forward confections are simple and short headpieces that goes with any hairdo with ease. Irrespective of the length and style of the wedding gown, the birdcage veils continue to be the rage all over the world.
Today birdcage veils have taken up so many forms that there are many variations to choose from:
Wedge birdca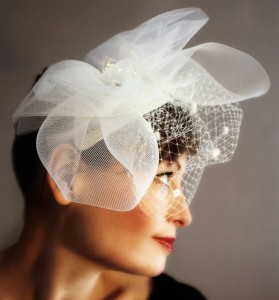 ge veil: This veil gives the bride a sassy look. Worn or placed at the temple or on one side of the head, it covers only one eye.
Bandeau birdcage veil: This veil gives a completely different look as such it appears almost like a face mask. This veil covers only the eyes or the entire face. This veil is attached from both sides of your head with a comb or hair pins. This veil goes lovely on women with short hair.
Angle birdcage veil: This chic veil comes to just below the eyes. it can be worn in two ways; one way is to wear it further back on the head, or set it at an angle to cover only a part of the face.
Blusher birdcage veil: This veil gives a fuller look for the bride. Usually worn from the top of the head i.e. the crown of the head, it gives a dramatic effect as such it encircles the head and creates a halo look.