Where to Buy Mother of the Bride Dresses?
Back then, it was the tradition for weddings to have the bridal mothers wearsomething matronly. Or something beige. It's always beige for some reason.
Whatever the case, it used to be the norm for the mother of the bride to show up at thewedding wearing something that is definitely not there to make a statement.
Fortunately, that's in the past and mothers of brides today have many options to choose fromand say to the rest of the crowd that their days of being fashionable are farfrom over. The question is, what's the best MOB dress out there right now andwhere to get it? Here's how:
Some Considerations
Before anything else, you must understand that choosing the dress for the mother of the bride should not be an afterthought. There are a few things that you must remember in order to make the bride's mother look at her best for that big day. Here are some of them:
Let them Choose
This might sound elementary but do not ever (big emphasis on the ever) choose thedress for the mother. Wedding etiquette dictates that the bride of the mothershould get to shop for her own dress, even before the mother of the groom.
But how do you make sure that what she chooses fits the theme of the wedding? Let the bride and her mother shop for their dresses together. This will not only make sure that she picks a dress that matches the theme but its a great bonding experience for both women and with their prospective in laws.
Mind the Length
Length often determines formality. The more of the knees the dress covers, the more formal it would look like. If possible, the length of the MOB dress and the bride's should match. It does not have to be accurate but just make sure that both of them wear dresses of matching length. This way, the mother does not stand out for all the wrong reasons.
Coordinate with the Maids
A complementation of colors is always ideal in weddings. As such, whatever themother wears should have a style and color that matches the bride's entourageas closely as possible.
And fortunately, there are brands out there that have made a name for themselves making dresses for mothers, maids, and brides that complement each other. You'll learn more about them later on.
Go for Specialty Stores
Looking for a dress at a department store is not recommended these days as theiroptions for mother's dresses are always limited. Instead, always head on to adedicated wedding dress shop.
Not only will these shops provide you with more options for dresses, they can also give you all the care and attention you need as they allow their customers to try out every dress that they have to offer. Depending on the budget and theme, of course.
Keep Simplicity in Mind
Although mothers are expected to be fashionable for the wedding, you must remember that they must not upstage their bride daughters. There are a number of wedding dress designers out there that make dresses for bridal mothers that are simpler but elegant.
Comfort First
Always remember that weddings can seem like they take forever to finish. If the motheris not able to move their arms, bend over, or even sit comfortably with thedress of their choice, they are missing out on enjoying from the big day.
Make sure that the mother can breathe comfortably in the dress of their choice by letting them move around while trying the dress. Make them move their limbs and see if they don't feel restricted doing so.
Black is Not Always Good…..
Yes, black may be stylish but it does not always go with everything. If black is oneof the themes of the wedding, then there should be no reason why the mother ofthe bride should not walk down the aisle wearing that.
But if the color scheme of the wedding does not include dark colors, then it is best to consult with the bride or whoever is in charge of the wedding dresses first.
….But Not White
Contrary to black, white is considered the "safer" color option for mothers. Shades likeIvory, champagne, and pearl white are always great options for mother.
But there is a chance that white could make the mother look boring or out of date, depending on the wedding's themes. Either way, just make sure to get the opinion of the bride first.
Don't Go Crazy on the Accessories
As was stated, simpler is always better for the MOBs. When choosing a bride for the mother (or with here), make sure that they don't go crazy with the sequins, the accessories, and other embellishments. The last thing that should ever happen in a wedding is for the mother to take away all the attention from her daughter.
Communication is the Key
The most important tip for mothers is to always communicate with the bride to bewhen choosing their dresses. The mother's opinion and input should matter butthe same could be said for the bride's.
If both women are happy with their choices, then they would feel all the moreconfident wearing them on the big day. And, of course, the less resentmentthere is on the wedding, the less problems there would potentially pop up forthe rest of the marriage.
The Best Dresses for Bridal Mothers
With these considerations out of the way, what are the best gowns for bridal mothers today? That answer is different from one woman to another. But, with that being said, there are some dresses out there that are considered the most ideal options for mothers on their daughter's big day. Here are some of them:
Alex Evenings Embellished A-Line Gown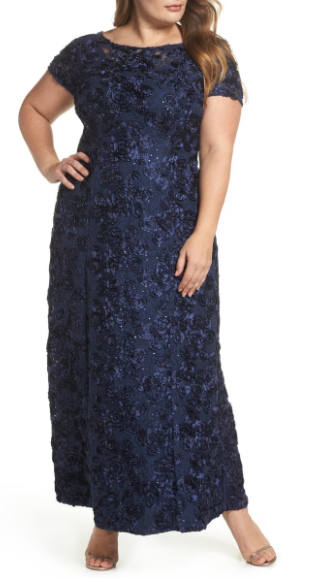 Alex Evenings – Rosette Lace Short Sleeve A-Line Gown
Perfect for MOBs that want to look simple but elegant, this gown from Alex Evenings reaches way past the knees and covers half of the foot. This gown is form fitting at the top and the embellishments, while heavily featured, do not take too much focus away from the dress to make it cheap.
The gown might be a bit too long for some mothers but shortening it is always an option. It is available in multiple colors and is sold at stores like Nordstrom and Dillard's.
Fenn Wright Manson Llana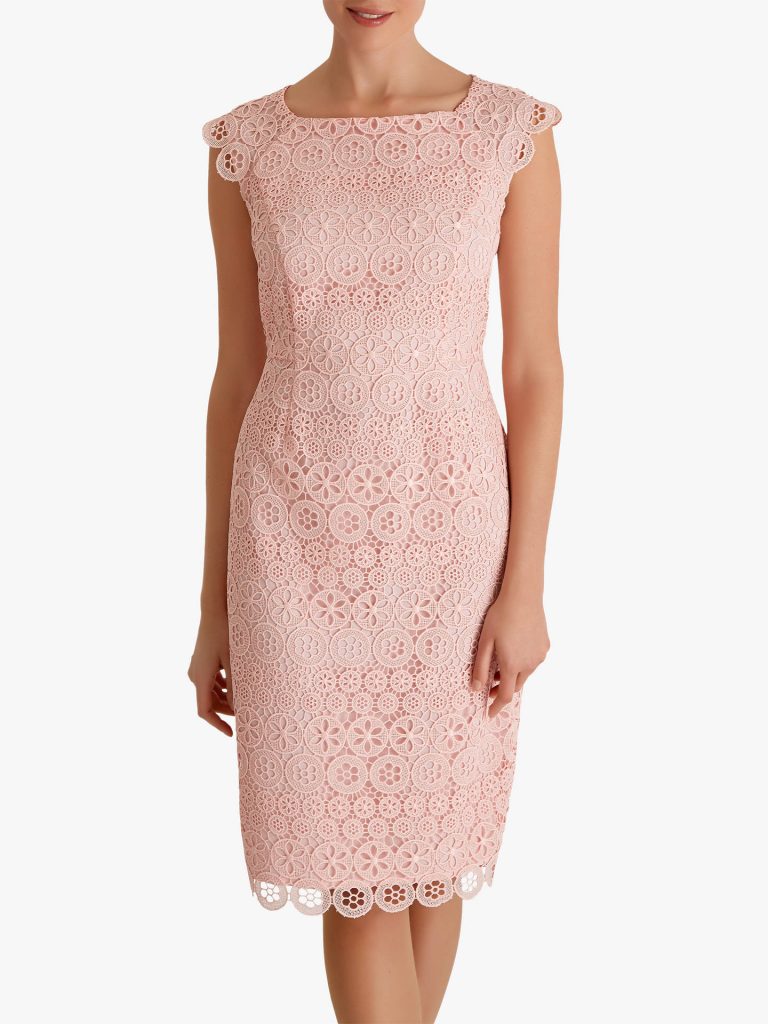 Fenn Wright Manson Llana
Sold exclusively at John Lewis & Partners, this short dress comes in a Rose color and is perfect for mothers who want something simple and unassuming for the wedding. It comes with a floral sequinned pattern that covers the entire dress which makes it perfect for summertime weddings.
The design of the dress naturally tends to complement mothers of short and small statures but those that are taller should be able to wear the dress confidently as well. The dress is also made with a light fabric, making movement more comfortable for the mother for the ceremony.
Adrianna Papell Floral-Print Column Gown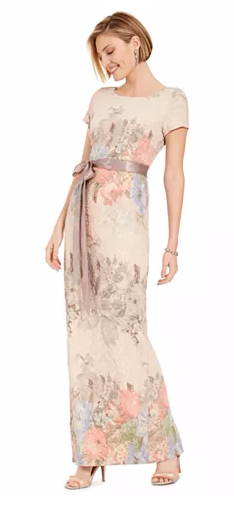 Adrianna Papell – Floral-Print Column gown
Available at Macy's, Amazon, and Anthropologie, this dress is quite popular for its floral pattern all over which gives off a rather metallic gleam. It also comes with a satin ribbon at the waist which is perfect for mothers who want to showoff their figures.
A major feature with the dress is the shiny fabric used to make it which gives the colors a distinct glimmer especially on a bright, sunny day. The gown also reaches past the knees and stops before the feet, giving it a long but not trip-prone appeal.
Gina Bacconi Lacey Crepe coat
For mothers that want to look formal on the big day, this coat and dress combo is the ideal option. Coming in a distinctly deep, navy shade, this dress by Gina Bacconi covers the arms and to the knees up.
It features a mixture of light sequins and heavy fabric that meets together at the center, forming a lopsided cross shape. The dress is available exclusively at John Lewis and can be adjusted to meet the measurements of the mother.
Adrianna Papell Beaded Blouson Gown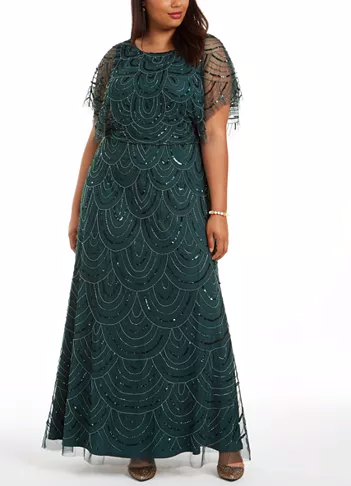 Adrianna Papell Plus Size Beaded Blouson Gown
Available at Bloomingdale's and Amazon, this gown projects a formal but not over the top image. It comes in a dark blue shade and is adorned with metallic beads way down to the feet.
It comes with a concealed back zip with hook and eye closure, giving the dress a seamless look at all sides while holding everything together for the rest of the big day. The dress can also come in various colors upon order.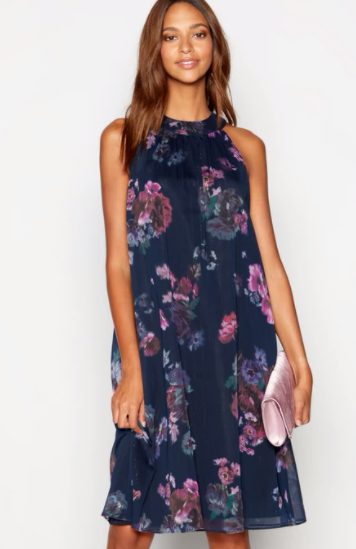 Debut Navy Paint Floral Sparkle Swing dress
Thisdress is perfect for mothers who, for the lack of a better term, don't want to feel their age. It is a sleeveless dress that extends just at the knees and comes in deep blue color.
What is immediately distinct with it is the various floral patterns that adorn the dress. It also is made with a light polyester fabric, making movement all the more comfortable during the wedding. This swing dress is available at Debenhams exclusively.
R&M Richards Sleeveless V-Neck Dress and Jacket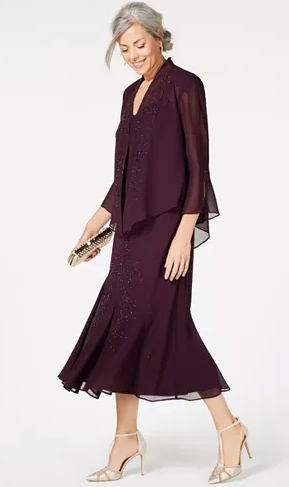 R&M Richards Sleeveless Beaded V-Neck Dress and Jacket
For mothers that want to hide a bit of their figure without feeling conscious aboutit, this dress and jacket combo should be ideal. It comes in a distinctly darkshade of maroon and comes adorned with various beads all over.
The dress is made from a light fabric which gives off a flowing motion every time the mother moves. It is sold exclusively at Macy's with shipping provided for those that need the dress ASAP.
Quiz Curve Berry Lace Bardot Fishtail Midi Dress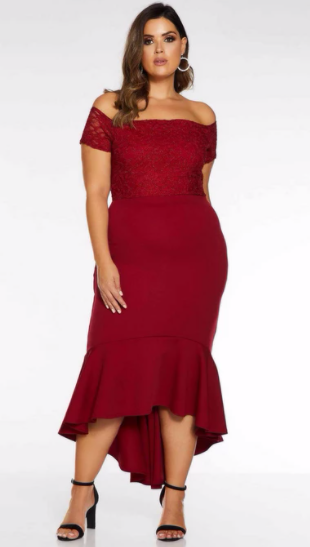 Quiz – Curve Berry Lace Bardot Fishtail Midi Dress
Sold exclusively at Debenham's, this dress comes in a bright crimson shade and isperfect for mothers with curved features. The dress is sleeveless andform-fitting but tapers off into a short, flowing skirt below the knees.
The back portion of the lower skirt is longer than the front, giving off a tail-like impression. As such, the dress gives the impression of constant motion even if the Mother of the Bride is just standing or sitting still.
Pisarro Nights Embellished Mesh Gown

Pisarro Nights Embellished Mesh gown
If the Mother of the Bride wants to have an old-timey but still timeless look, this gown might be the best option. It is a sleeveless, sequinned dress that takes cues from high fashion dresses from the roaring 20s.
It is adorned with crystals all over the body, making the mother sparkle whenever she moves. The dress is available at Nordstrom and in various colors. If you are in between sizes, it is best to order one size down since the dress is form fitting.
Maya Delicate Sequin Embellished Kimono Dress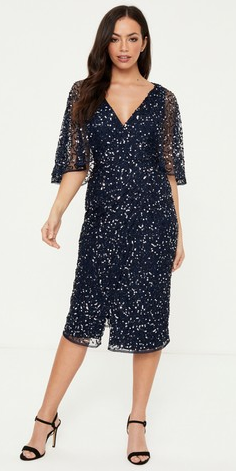 Available exclusively at Next, this dress from Maya takes cues from both Eastern and Western designs. It is knee-high and comes in a deep, blue color.
The fabric used for the dress is polyester, making it light and easy to breathe through. It also comes with a sparkling sequin pattern all throughout the body to give the gown extra flair.
Karen Kane Scalloped Lace Sheath Dress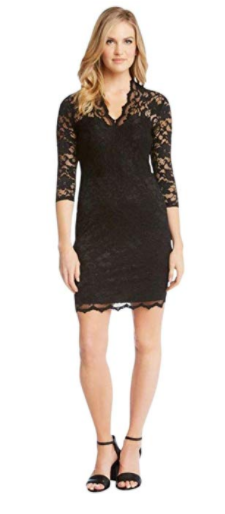 Karen Kane Scalloped Lace Sheath
For mothers that want to be a bit more, well, daring on their child's big day, then this gown might have what they are looking for. This gown designed by KarenKane features a scalloped trim is made with an all-over fabric lace and plunging v-neck.
The dress was designed to accommodate every curve of a woman, giving off a rather flattering look. Available at Nordstrom and Amazon, this dress is available in multiple colors and in petite and regular sizes.
Want That Trend Floral Wrap Midi Dress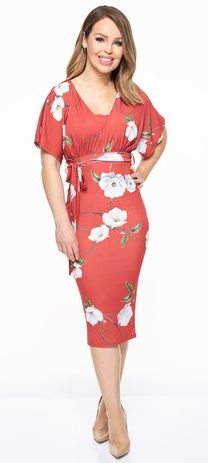 Available at Next, this dress is a short, knee-high attire that comes in a salmon color with distinct floral patterns on top. As such, it is the ideal option formothers that do not want to draw attention to themselves but want to maintain a dignified look for the wedding.
The dress was designed to huge every curve of the mother, highlighting their features. Plus, it comes with a satin belt at the belly to showcase the mother's figure even more.
Alex Evenings Long Mock Dress
Designed by Alex Evenings, this gown features the brand's trademark A-Line skirt and comes with a sequined top. It comes primarily in a deep blue color although shops like Macy's and Amazon do offer other colors.
The gown flows down to the heel which gives the impression of the wearer being taller than they are. The lace top is also made of a material that is neither stiff nor scratchy, keeping the mother as comfortable as possible on a long wedding ceremony.
Frill Sleeve Dress Coat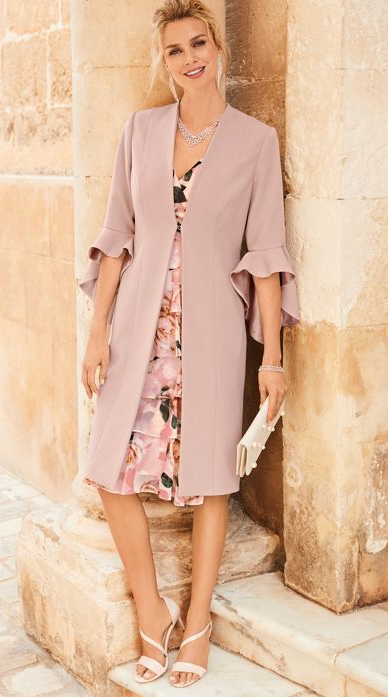 Frill Sleeve Dress Coat
Sold exclusively at Kaleidoscope, this coat and dress combo is perfect for MOBs thatwant to look simple and dignified for their daughter's wedding. The coat comesin a peach or pink shade and is complemented by a v-neck dress with floral patterns.
The major highlight here are the large ruffles on the elbows which are lined by satin. The dress coat can also be complemented by equally simple accessories on the neck and the wrists.
Alex Evenings Long Line Rosette Dress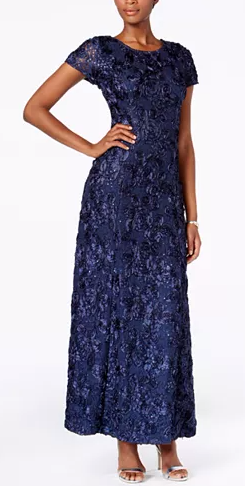 Alex EveningsRosette A-Line Gown
Soldat outlets like Macy's, Nordstrom, and Amazon, this dress from Alex Evenings(again) features the brand's iconic deep blue colors and flowing A-Line skirts.What makes it different from the others, however, is the inclusion of small rosettes and sequined patterns that give off a shapely silhouette for the wearer.
This dress is available also in other colors and comes with a V-neck back. It is recommended to use this dress with Navy heeled sandals, a nude lip, drop earrings, and an updo.
Lace Dress with Peplum Helm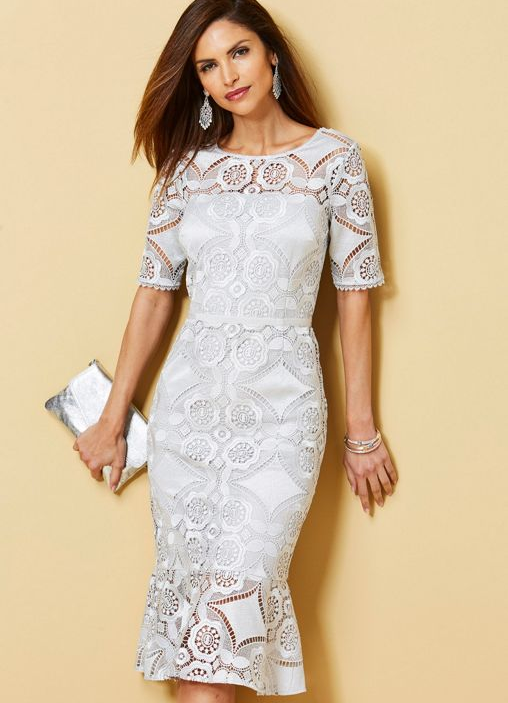 Lace dress with Peplum Helm
Available at Kaleidoscope, this dress comes in a strikingly white shade. It features a semi-sheer lace overlay above a lining, a short sleeve, and a v-back. It also comes with a fastened centered back with a concealed zip, creating a seamless look for the dress.
This dress is best complemented with white high heels and a clutch. This should make the outfit look dignified yet effortless for any special occasion, most importantly a wedding.
JS Collections Soutache Mesh Dress
JS Collections Soutache Mesh gown
Designedby JS Collections, this dress gives off a striking and yet distinct look withits multi-fabric build and patterns. It also comes with a unique trumpet silhouette which makes it ideal for mothers with curved figures.
Sold at outlets like Nordstrom, Anthropologie, and Amazon, the Soutache Mesh Dress is available in other colors. However, it might be slightly larger for some women. As such, it is best to consider sizing down a few weeks before shipping.
Pisarro Nights Embellished Mesh Gown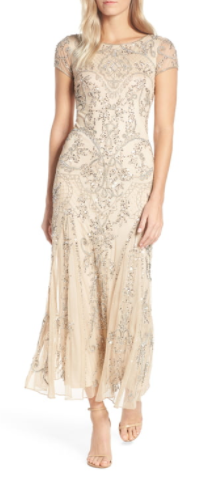 Pisarro Nights Embellished Mesh gown
Sold exclusively at Nordstrom, this gown features a beaded top and a skirt that moves smoothly whenever the wearer turns around. It comes in a bone white color although other colors are available depending on the time.
The top is made with various sequins and patterns, giving off a simple yet elegant look. It is best complemented with strapped heels and a color-coordinating clutch.
This mesh gown might run large for some body types. As such, it is recommended that one orders one size down weeks before the big day.
Irresistible Off the Shoulder Dress
Catherines of Partick Off the Shoulder dress
Asthe name would give away, this dress sold exclusively sold at Catherines ofPartick features an off-shoulder design, allowing the wearer to reveal more ofher figure while keeping things at a dignified level.
The dress was designed with a fitted lattice which hugs the body comfortably. This all ends with a fuller-style skirt that reaches just above the knees. The shirt comes in either turquoise or deep blue.
Veni Infanto Short Fitted Bead Dress and Coat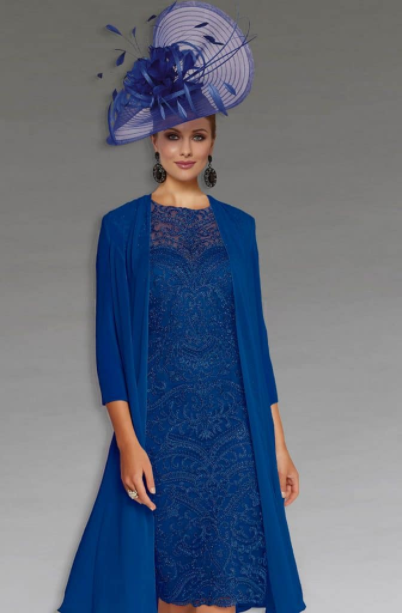 Veni Infanto Short Fitted Bead Dress and Coat
Sold exclusively by the Catherines of Partick brand, this knee-high dress features a covered sweetheart neckline. It also features several diamond patterns all over the body which makes the dress sparkle.
This is all complemented by a coat with a thicker material which the wearer can take on or off to their liking. This dress is available royal blue shade although a bone white variant is also provided for those who want another color option.
What You Should Ask Your Wedding Dress Provider?
Knowing the best MOB dresses out there is all well and good, but where should you go to get them? Regardless if you head to your nearest specialty store or go to theInternet, you must always make sure that the boutique/store of your choice has what it takes to meet your needs.
And you can do this by asking them a few questions such as:
What's Your Price Range?
A good wedding dress should set you in between £50.00 and £1,000.00. Regardless of the entire wedding's budget, you must make sure that you do not overspend on a single item.
Some wedding shops cater for budget-friendly weddings and others towards couples who are a bit on the excessive. Take a look at their product list and you should have a good idea if that store is for you budget-wise.
How Good is Your Shipping?
A wedding store, especially online ones, should be able to send their orders in a timely fashion. A week or four is a good standard, the latter all the more to be expected for those that ship to international shores.
But what about rush orders? Can that store cater clients that need their MOB dresses ASAP? If they can assure that they can get such orders shipped out within a day or two, it's a telltale sign that that store has awesome customer service.
Do You Allow Adjustments?
Every wedding dress out there was made to fit certain body types but, as we all know, not every woman shares the same exact body type. As such, you need a wedding store that can make the necessary adjustments for your orders depending on the measurements of the one who is about to wear it.
You would be surprised how an accommodation of just a few inches at the belly or at the skirt, shoulders, and everywhere else can go a long way in making the mother of the bride all the more comfortable. And if she is happy with her dress, that would be one less problem for the couple to deal with on their big day.
Sources:
https://shop.nordstrom.com/s/alex-evenings-embellished-a-line-gown/
https://www.macys.com/shop/product/adrianna-papell-floral-print-column-gown
https://www.johnlewis.com/gina-bacconi-lacey-crepe-coat/navy/p3905082
https://www.debenhams.com/webapp/wcs/stores/servlet/prod_10701_10001_008020531643_-1
https://www.bloomingdales.com/shop/product/adrianna-papell-beaded-blouson-gown
https://www.debenhams.com/webapp/wcs/stores/servlet/prod_10701_10001_61252+283544_-1
https://www.macys.com/shop/product/r-m-richards-sleeveless-beaded-v-neck-dress-jacket
https://shop.nordstrom.com/s/pisarro-nights-embellished-mesh-gown-regular-petite/
https://www.next.co.uk/gl3322s10#r05662
https://www.amazon.com/Karen-Kane-Womens-V-Neck-Scalloped/
https://www.next.co.uk/style/esl15272#l15272
https://www.macys.com/shop/product/alex-evenings-sequined-lace-gown
https://www.kaleidoscope.co.uk/products/frill-sleeve-dress-coat/_/A-47D089_10
https://shop.nordstrom.com/s/alex-evenings-rosette-lace-short-sleeve-a-line-gown-plus-size
https://shop.nordstrom.com/s/alex-evenings-rosette-lace-short-sleeve-a-line-gown-plus-size
https://www.kaleidoscope.co.uk/products/lace-dress-with-peplum-hem/_/A-41S302_12
https://shop.nordstrom.com/s/pisarro-nights-embellished-mesh-gown-regular-petite
https://catherinesofpartick.co.uk/mother-of-the-bride-dresses-groom-outfits/short-off-the-shoulder-dress-with-full-skirt-irresistible-ir3029/
https://catherinesofpartick.co.uk/designers/veni-infantino/short-fitted-beaded-dress-with-coat-veni-infantino-991434/