Butterflies Wedding Theme
Add an ethereal touch to your wedding by incorporating butterflies into your wedding theme. Elegant and beautiful, these little flutterbies have seen a rise in popularity in the last couple of years and it's easy to see why. Perfect for the more romantic touch or a summer celebration, bring a piece of nature in to your wedding.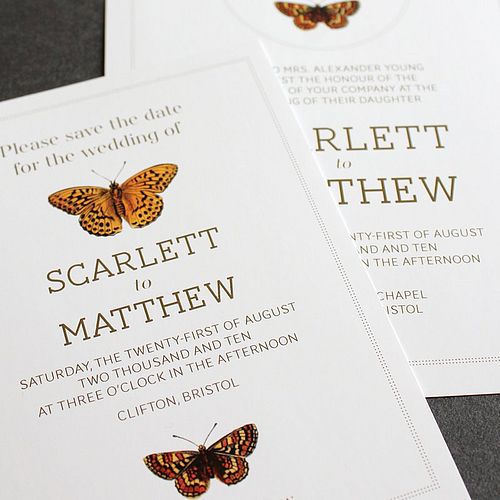 Wedding stationery is where it all begins, so choose an invitation that compliments your theme. If you're feeling creative, cut out mini butterflies and add them to the inside of your invitation or just slip them straight in to the envelope, give your guests a pleasant surprise when they receive your invitation.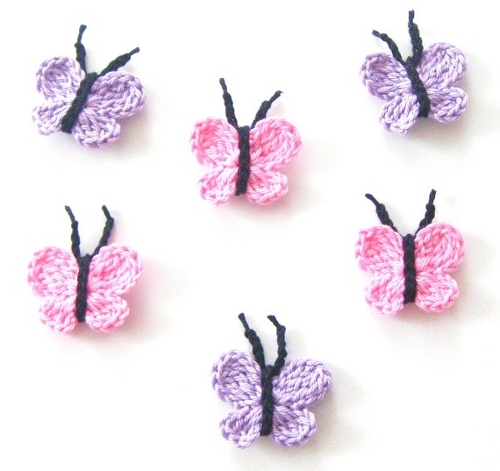 Any wedding dress can be easily transformed to fit this gorgeous theme, simply appliqué tiny butterflies to your dress for a quick and easy makeover. Pick areas where they will be noticeable but not overwhelming such as around the hem, with a single butterfly at the neckline. Do the same with your bridesmaids dresses, add butterflies to your veil or appliqué them to your best man & ushers' cravats or use them as buttonholes; find a way to incorporate your entire wedding party in to the theme subtly and with a touch of whimsy.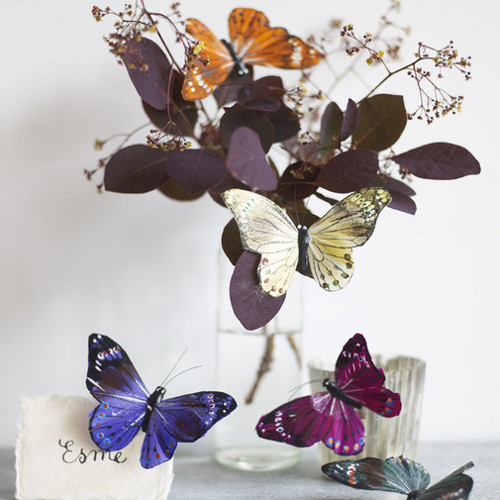 Paper butterflies on sticks can be inserted in to your flowers, your florist may even have specialist products available that can be professionally incorporated in to your order. Charm your guests with butterflies in the flowers on the pews, placed just so to look like they've flown their way in and paused for a moment. Ask everyone to bring butterfly confetti for that special moment, it'll look fantastic in the photos.
Keep the theme going through your wedding favours, there are many butterfly or butterfly inspired products out there, from a box of butterfly friendly flower seeds to butterfly shaped cookies, there's something for everyone.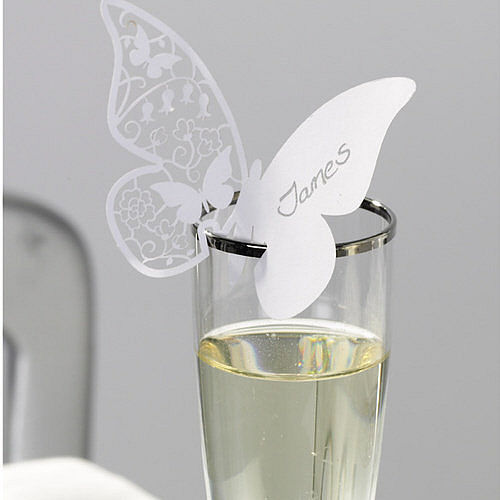 But my absolute favourite part of this theme is the table decorations. Make your name-tags shaped like a butterfly and place it on the rim of the wine glass for an elegant and fun way of marking people's place. Have a bowl of floating candles on every table for the evening's celebrations, butterfly shaped of course! Devote each table to a single butterfly, adding colour and interest. Write up a fact sheet and leave it as a gift for each guest, perhaps wrapped with their napkin and held by a butterfly adorned napkin ring.
Take care to sprinkle your butterflies throughout your wedding, keep it simple and magical and your day is sure to follow.