Wedding Invitations & Stationery
Wedding Invitations – When to Send, What to Write and Who to Include?
Organising your wedding stationery and invitations is one of the fun aspects of planning your wedding day. However, it can also be the most frustrating! Here are some tips and advice to help you organise your wedding invites and stationery requirements.
Guest Lists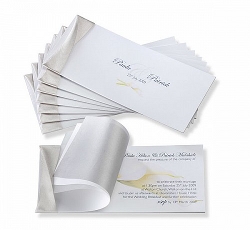 The guest list is traditionally prepared by the bride's parents although it's now becoming more common for the marrying couple to prepare the list together. Ideally, you should start preparing your guest list up to a year before the wedding date and you should send out the invites around 2 months before the big day.
A good idea is send out 'save the date' cards as soon as you have a set a date with a view to sending out the formal invitations nearer the day. This is particularly important if your wedding day coincides with the summer holiday season or Christmas time.
Who to Invite?
Weddings are traditionally a family affair so it's usually best to start making your list from close family members as a priority, followed by more distant relatives and then friends and colleagues of both the bride and groom and their parents. It's customary to send out invites to members of the wedding party also – such as bridesmaids and the best man as well as the Church Minister if you are marrying traditionally?
Sometimes there are relatives or close friends who you know will be unable to attend. However, it's good form to send an invite anyway, just to show that you have thought about them. Inviting Children This can be tricky and is often the source of complications. If you don't want children to attend then it's best to invite their parents specifically by name and to have an answer prepared in advance for when they ask. Excuses relating to cost usually meet least resistance and save a lot of ill feeling!
Inviting Guests' Partners
This is another potentially difficult aspect but whatever you decide, make it clear on the invitation and invite the partner by name.
Who should Send the Invitations?
As a matter of etiquette, the host sends. So if the bride's parents are hosting and bearing the cost of the wedding, it's they who should send the invitations and receive the replies.
If the bride and groom are hosting and paying for their own wedding, it's fine for them to send the invitations and receive the replies.
Addressing the Envelopes
A formal approach demands a few points of etiquette:
For a married couple, the invitation should be addressed to the wife – with the mode of address using her husband's first name. For example: Mrs John Smith
Avoid abbreviations of names
Men should be addressed as Esquire or Esq
Widows are addressed using their deceased husband's first name
A Divorced women still using her married name should be addressed as Mrs, with her own first name followed by her married name
An Unmarried Couple in an established relationship should be addressed as Miss (her own first name and surname) and (his first name and surname) Esq, while envelopes to same sex couples partners, with the names in alphabetical order.
RSVP Cards
The traditional way of replying to an invitation is by hand-written letter but RSVP cards are now more popular: sending one with your invitation is the easy and efficient way of making sure your guests reply promptly.
Order of Service or Order of the Day
An Order of Service card itemises details of your ceremony and are handed to your guests by your ushers .
Order of the Day cards provide a guide to the day's events for a civil ceremony and are usually placed on each seat or handed to guests as they arrive at the venue.
Menu Cards
Menu cards are really a courtesy to your guests and ideally suited to a sit-down meal, with one card for each place setting, they can also be used for a buffet where they can be set out at random on the tables.
Thank You Cards
Thank you cards are ideal for sending to your guests after the wedding to show your gratitude for their gifts as well as for attending your special day. A nice touch is to include a short hand-written note, personalised to each recipient, perhaps, mentioning the gift and how much you like it?
Handmade Wedding Stationery
It used to be that if you wanted something different from the standard range of wedding stationery on offer you either had to have a talented friend or do it yourself! Now, thanks to the internet, there are now many independent and talented stationery designers who can create just what you want at a price that compares favourably with many 'ready-made' alternatives.
Where to Find Hand Made Wedding Stationery?
OK, so you want your wedding stationery to be a bit different and unique to you, but where do you start? Well, obviously, eBay is a good place to look. There are hundreds of people now offering a bespoke stationery service on eBay and you can see the feedback they have had from previous customers as well as some examples of their previous work.
Also, many designers are now working independently and you can find them by searching the internet. You might want to choose someone close to where you live or you may have had someone recommended to you? Of course, you might just want to browse around and go for someone who's designs you particularly like? It really is up to you!
Ordering Bespoke Wedding Stationery On-line
Some points to remember when ordering handmade wedding stationery online:
Have a good look around, it costs nothing to browse. Most websites will have examples of the designers work that might appeal to your taste.
Get a sample – there may be a small charge, but some designers will offer a free sample.
Allow plenty of time, especially at peak times, you should order your stationery well in advance of your wedding day – Ideally this should be up to 9 months before the big day, although many stationery designers will try to accommodate you at shorter notice.
Once you are happy with your chosen design you will receive a 'proof' for you to check. Take your time and don't be afraid to ask for any changes.
Once you approve the final design there won't be much chance of altering anything, so make sure you are happy.
You will usually have to pay a deposit (normally 50%) at the time of ordering with the balance payable when your order is completed.
Independant Wedding Stationery Suppliers
Dinki Dynamo – Luxury Hand Made Wedding Stationery
Luxury bespoke wedding invitations and marriage invites, hand made with beautiful materials and colours. Shop online for delivery in 8 – 12 weeks. Wakefield, West Yorkshire
No9Designs
A stunning collection of contemporary wedding stationery individually handcrafted using wires, beading, ribbons and handmade papers from all over the world. A bespoke design service is also available for those wanting something a little different.