Top Ten Pre-Wedding Day Beauty Tips
Article written by Katie Dale, Wedding Hair and Make up Artist United Kingdom
Preparing your perfect look on your Wedding Day often starts months before the big day itself. Often for Brides it can be the first time they employ the services of a Hair and Make up Artist, and this can be quite a daunting task, full on uncertainties about how you want to look on your big day, what you can do to help prepare yourself and what styles will accentuate your features and make you feel and look beautiful on your Wedding Day. This is exactly what Hair and Make up Artists are here for – to provide good, sound advice based on their experience of working with many Brides, and to make sure that you look your best on your big day.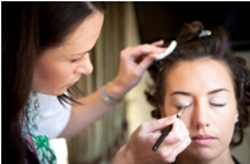 You want your Wedding Day to be as fun and as stress-free as possible; and avoiding unnecessary problems is easy with the correct preparation.
Your Wedding Day is not a day for experimenting with your hair or make up, and so many Hair and Make up Artists (including myself) insist on a Trial Day in advance of your Wedding Day.
A Wedding Trial provides the perfect opportunity to experiment with different styles, looks, and colours and really refine the perfect look for you on your Wedding Day, and so all that needs to be done on the morning of your Wedding Day is to sit back (maybe sip some champagne) and be reassured that your Hair and Make up Artist is going to make you look beautiful!
Pre-Wedding Day Beauty Tips
To help you learn from my experience I have listed ten of my top pieces of advice, which should help avoid some of the mistakes I have seen made over my ten years of working with Brides. In no particular order, here they are – I hope you find them useful?
Fake Tan – If you are planning to apply fake tan, or to have a spray tan before your Wedding Day it is a good idea to have it applied before your Wedding Trial too. All too often I work with my Brides to create the perfect look on their Trial Day, only to find their skin shade is completely different on their Wedding Day;
Bring a Camera – Having a camera handy on your Trial Day is a great idea as it allows you to take a picture of your finished look, and you than can look back at it in the weeks and days that follow. Remember the camera never lies and you want to look your best on camera on the big day!
Choosing the Correct Style – Bear in mind that your Wedding pictures will stay with you for life. You don't want to look back at them in ten years time and think 'who is that in those pictures?'. Be yourself, accentuate the features that you have and rather than creating a completely new look for yourself on your Wedding Day, just add some Glamour to your usual look;
Eyebrows – I always recommend to my Brides that they consider having their eyebrows waxed, threaded or plucked at least a few days before their Wedding Day. Your brows can make a huge difference to your appearance, adding strength and definition to your face;
The Great British Summer – If happens to be a hot sunny day, check that your foundation has an SPF. If it doesn't it might be a good idea to put some sun protection under your make up. No one wants to see a red blotchy bride!
Hair Pieces – If you are having a hair piece with your Wedding hair style, make sure it exactly matches the colour of your own hair. If you are having your hair coloured before your Wedding Day, remember to take your hair piece along with you and ask your Hairdresser to colour your hair piece as well;
Skin Types – For those of you that have sensitive skin, it is always a good idea to ask your make up artist to perform a skin test before applying the make up to your face. It is likely that your Make up Artist may be using a brand of Make up that you have not tried on your skin before and the last thing you want is for the skin on your face to react to your make up on your Wedding Day. This is one of the reasons I insist on a Trial;
Choose your dress before your Hair and Make up Trial– It is a good idea to have at least chosen your dress before you have a Wedding Trial. The neckline of your dress can define the type of hairstyle that you have on your Wedding Day;
Keep topped up – Your Make up should last all day, and all night! The only thing you should need to top up after your Make up Artist has left is your lipstick, so make sure you know which shade of lipstick your Make up Artist is going to apply and get one for yourself so you can keep topped up all day!
No crew-neck tops on your Wedding Day – When your Hair and Make up Artist arrives on the morning of your Wedding, make sure you and your Bridal Party are wearing zip-up / button-up tops or bathrobes. You don't want to find after your Hair and Make up has been styled that you are wearing a piece of clothing that will smudge your make up or ruin your hair as you take it off!
A bit about Katie Dale

I am a freelance wedding hair and make up artist in the North West of England. I have over ten years' salon experience, training with L'Oreal and Guy Kremer and I am fully qualified to work with hair pieces of all types. Since going freelance in 2009 I have been privately trained at the Manchester School of Make Up and use MAC, Bobbi Brown and Illamasqua products on my clients. See my portfolio page on my Website for examples of my work
I am available to travel to your home or venue for both your trial and wedding day. I provide professional hair styling and make up services to brides and their bridesmaids, family and guests.
For more information, including prices and pictures of Brides I have worked with in the past, please visit my website at www.katiedale.co.uk
Also, Follow me on Facebook