New Wedding Guest Dressing Rules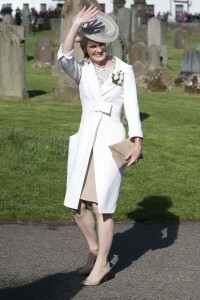 Planning a wedding is not only the only one with rules to think of. Being a wedding guest also have some rules to follow. Needless to say, looking for a wedding guest dress can also be a pain.
But worry no more, here is InStyle's bride-to-be Lucy Pavia brings you the new dos and dont's of dressing for a modern wedding.
The New Rules Of Wedding Guest Dressing
Swap fascinators for hairbands
A very stylish friend of mine actually put a 'no fascinators' rule on the invite to her wedding. I am not a fan either, looking across the church at a multitude of ladies wearing those bright feathery ones can make it look like the happy couple has invited a flock of brightly-coloured birds to witness their marriage. Why not try a cool embellished hairband (a la Sam Cam at the royal wedding), or a clip-in silk flower instead. Or go old school with an actual hat…
Nude courts: please, please make it stop
Yes I do understand the practical points on this: they're leg lengthening, they go with everything, you can wear them again and again etc. But they're also tired and more-than-a-little dullsville. If you can get away with an open toe, swap for a very simple strappy sandal, or try metallics, which (don't forget) are also a neutral so you'll get just as much bang for your buck.
Match tones not colours
For your wedding ensemble to come together you don't need to pick one colour and obsessively match your shoes, bag, nails, jacket, child to it. Work with colours which are the same tone or type and you'll get a more relaxed and modern look.
Context is everything
Is it a country wedding in a field or a sleek urban affair? I wore a bright blue belted jumpsuit to my friend's city wedding which would have looked pretty odd in the middle of the countryside. Also, don't feel under pressure to dress in 'wedding mode' – unless it's a particularly formal affair, these days it's fine to go against the grain and swap the classic dress and jacket for a trouser suit or skirt and top. 'Where are the rest of the Incredibles?' my friend Tom asked me when I turned up in the above jumpsuit. He was wearing a cravat. I rest my case.
Coat dresses
Tempting I know. But my general rule of thumb is to avoid these if you're a) under 50 b) not a Middleton.
Beware the Whistles pair-up 
Whistles is a victim of its own success here. Because you can always find something stylish and nice to wear to a wedding in Whistles, odds are that someone at said wedding will be in the same Whistles dress as you. If you know lots of the guests do a quick straw poll before to see what everyone's wearing. Or, to hell with it, go in the damn Whistles dress and make a joke of it.