Top Tips for a Wedding Day Glow
Beautiful, Elegant and Happy. These are usually the ones we think of what we would look like to be on our wedding day.
But before that reality, we usually get crazy over that fact. Do not worry, you are not alone. Almost every bride comes to that situation. And to give you some tips on how to be that radiating bride, we are sharing to you this article.
Bridal beauty: top tips for a wedding day glow
Don't DIY when it comes to eyebrows
"Plucking your own eyebrows can be a bit risky as just one wrong hair can ruin the shape," advises Lisa. Go to the salon and leave this job to a professional.
Dewy skin
"A natural make-up look must always start with a flawless looking base and your foundation must match your skin tone," explains Lisa. "Get the dewy look by buffing a highlighter into your skin (like Benefit's Sun Beam) before applying foundation."
Don't let your blusher make you look like a doll
"Once you have the right foundation pick a soft toned blusher. Avoid red blushers if you're prone to flushes," says Lisa. "Corals are best for weddings as the natural pink from your cheeks will be out in full force due to your excitement and nerves. Corals, as seen on Emma Stone, will help you avoid the dreaded doll look."
Prime time primping
"A primer, like Benefit's Porefessional, underneath your foundation will keep your make up looking fresh throughout the day," explains Lisa. "It helps to minimise the appearance of pores and fine lines, whilst also taking away any excess oil and shine. Ask your bridesmaids to keep it on hand as you can pat it over your make up throughout the day if you feel you need to freshen up."
Come over all of a flutter?
Wedding days are stressful and emotional times so it's no wonder brides can break out into a hot flush. "The biggest mistake you can make when trying to cover the redness, is to apply too much make up," explains Lisa. "The best bet is to pat a concealer over your foundation on to the necessary areas."
Top tip: "Apply a touch of concealer on to your ears too as they also tend to go red when nervous!"
To make your eyes stand out, lash it up!
"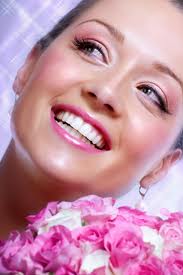 False lashes open your eyes and define them," says Lisa. "There are so many different styles on the market, so buy a few types and try them out in the run up to your wedding. Top tip – take a photo when you have your lashes on to see how they make your eyes look. Then you know they'll look gorgeous in your wedding pictures."
For a kiss that will last
"If you're wearing a lipstick, apply a tint on your lips first. This will ensure long lasting colour," explains Lisa. "When applying your lipstick, use a lip brush for definition and precision."
Here come the waterworks
"When it comes to eyeliners, it depends on what look you want to go for. If you're going for a classic eyeliner flick, use liquid liner. If you want a softer look, use a blend-able kohl pencil." Either way, make sure it's waterproof for when it all gets too emotional!
Don't be afraid to fake it
"Fake tans are a great way of giving yourself a healthy glow before your big day," explains Lisa. But if you're new to the fake bake experience, don't try it for the first time the night before the wedding! "I would recommend having a trial run about 6 weeks before your wedding to ensure you like the results. And avoid instant tans as they can stain your dress."
Get over those sleepless nights
All the preparation and planning can make take its toll and make for a pretty stressful run up to the big day but no one needs to know the sleep you lost over those place settings. "If your eyes feel sore from the sleepless nights, pop a couple of slices of cucumber in the freezer for 30 minutes, then rest them on your eyes for 10 minutes to soothe and refresh." Magic!
Stay sweet smelling all day long
Chances are you've picked out a special scent and here's a top tip to make it last all day, thanks to Lisa: "Don't just apply your wedding scent in the usual areas – spritz it behind your ears and also on your ankles. Yep, spritz your ankles! Your scent will rise meaning that it will last longer."
If in doubt, hire a professional

"Your wedding day is a great excuse to be pampered," explains Lisa. "Having a make-up artist will make you feel extra special. Plus it takes a bit of pressure off of you, knowing that your make up will look great!" Price can vary depending on where you are and the experience of the make up artist but the minimum you should expect to pay is £50.