Civil Marriage Ceremonies
A guide to planning a civil marriage ceremony at a licensed venue, a register office or if you are marrying abroad.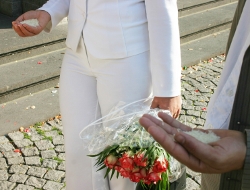 A civil marriage is a ceremony without any religious context. In England and Wales, it can take place at a register office or a venue that has been approved for civil marriages. Approved premises include some stately homes, hotels, restaurants and even zoos.
In Scotland, a civil marriage can take place at a register office or approved venue. A list of approved venues can be obtained from the General Register Office for Scotland
Giving Notice
It is a legal requirement to give notice of marriage and, once given, your notices of marriage are displayed on the notice board at the register office for a period of fifteen days.After giving notice, you must then wait 15 clear days before the marriage can take place. Once given, your notice is valid for 12 months.
Special rules apply for people from non UK countries and further information can be obtained from the UK Border Agency Website
Where to give notice
You both need to go to your local register office to give notice of your intention to marry.
If you plan to marry in a different area, you should also contact the register office for the district in which the marriage is due to take place. This is because you will need to ensure that a Superintendent Registrar (to conduct the service) and a Registrar of Marriages (to record the details in the marriage register and issue your certificate) will be free to attend your chosen venue on the day. You both must give notice of marriage in person to the Superintendent Registrar – no one else can do it on your behalf.
Residency requirements
You can get married in England and Wales as long as you have both lived in a registration district for at least seven days immediately before giving notice of marriage. This applies to all couples, including those travelling from overseas to marry in England and Wales – except where one person gives notice under the Marriage of British Subjects (Facilities) Acts 1915 and 1916
Documentation required
You will need to show the superintendent registrar documentary evidence of your name, age and nationality – ideally in the form of your passport. You will also be asked to provide evidence of your address. If you have been married or registered a civil partnership before, you will also need to produce documents that confirm that you are now free to marry. These could include:
a divorce decree absolute or final order of civil partnership dissolution bearing the court's original stamp.
the death certificate of your former husband, wife or civil partner.
Where you can marry?
A civil marriage ceremony can take place in any Register Office in England or Wales, or at any venue that has been approved to hold a civil marriage. Approved premises list is here and more details here.
Personal Touches
Strictly speaking, you are not allowed to include any religious content at a civil marriage ceremony, although these rules have recently been relaxed and most conventional themes can be catered for. You should check with the registrar for your district before making any definite arrangements as the interpretation of the rules can vary from district to district. Don't forget that you will need at least two people to witness the marriage and sign the marriage register.
How much does it cost to get married?
Cost of giving notice in advance of a ceremony either at a register office, Approved Premises or in a religious building other than in the Church of England or Church in Wales: £33.50 per person
Cost of a Register Office ceremony: £46.00 and £86 at a registered religious building.
Cost of a ceremony on Approved Premises – the cost for attendance by the Superintendent Registrar and Registrar is set by the local authority in question. Usually it's about £220 but can be double this amount at certain times – Saturday after 1pm and Bank Holidays for instance.  Your Local Authority's Official Website will have the exact cost. A further charge is likely to be made by the owners of the building for the use of the premises.
Cost of a Religious Ceremony at a building other than a Church of England or Church in Wales – unless the building has an Authorised Person – there will be a fee of around £86.00 for the registrar and there may be further fees charged by the trustees of the building and the person who performs the ceremony.
Cost of marriage certificate: £3.50
How do we find our local register office?
You can search for your local registry office here. Alternatively, addresses and phone numbers for local register offices can be found in the local area phone book or search engine.
What about an approved venue?
You can search for a list of approved venues here. Please type in the full postcode, town or county to get details of venues available in a particular area.
How do I get a copy of a marriage certificate?
You will receive your marriage certificate straight after the ceremony. If at any stage you require another copy, you can apply online or via a register office, in person, by post or fax.
Is it possible to correct a marriage record at a later date?
Each entry in a marriage register is an historic record of the facts as they were given at the time of the ceremony. If errors are subsequently discovered the law may allow for details to be changed or added for which there is no charge. If you would like to discuss a correction, please contact the Superintendent Registrar for the registration district where the marriage took place, who should be able to give you some initial guidance.
Please note: applications for corrections can only be requested by one of the parties to the marriage.
What do we do if we want to get married abroad?
If you have any general enquiries about marrying abroad, you should contact the Embassy or High Commission of the country concerned. It is possible you will be asked to obtain a Certificate of No Impediment. This is a document required by some foreign authorities to enable a non-national to marry in their country and, under certain circumstances, can be provided by your local register office. If you are asked to provide one, you should contact your local register office.
If you have been asked to provide an Apostille – which is simply formal confirmation that a signature, seal or stamp appearing on a document is genuine – please contact the Foreign & Commonwealth Office on 020 7008 1111 for full details including fees, or go to www.fco.gov.uk
Passports
You will normally need to renew your passport to show your married name after the wedding but if you are marrying abroad or planning a honeymoon abroad then you can apply for a new passport up to 3 months before the wedding.
Can we register our details in England and Wales?
No, overseas marriages may not be registered at a register office. However, you can apply to have your overseas marriage documents – with translations if necessary – sent from the country where you were married and deposited with the General Register Office. Certain conditions apply, further information can be found here.