Alice in Wonderland Wedding Theme
If you are stuck for wedding theme inspiration or just interested in different theme ideas then Zoe from Cherish Wedding Planning has a few mad suggestions.
Mad Hatters
If you have a beautiful garden setting, why not take some inspiration from Alice in Wonderland? Tea parties are very popular at the moment, and work well for afternoon weddings.
Decorate the garden with ornamental rose bushes in pots or get a florist to decorate bay trees with roses to suit your colour scheme. Lanterns and bunting in the trees, or hung across the tables, give an instant garden party feel.
Long tables as in the Mad Hatter's Tea Party, covered in white table cloths, with assorted garden chairs, and vintage china. Cake stands and crockery can be hired and really set off a table design. Sandwiches and cupcakes are perfect for afternoon tea, with Eat Me labels on.
Eye Candy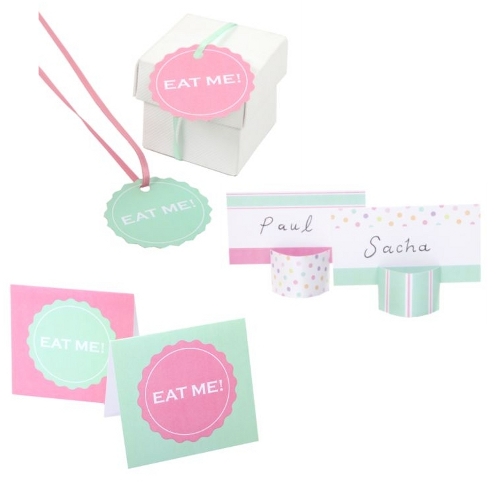 The eye candy range from Confetti (above) is ideal and includes 'eat me, drink me' labels.
I would advise that you don't serve only tea for your guests. Iced tea can be great on a hot summer day, or jugs of Pimms on the table for people to top themselves up, labelled Drink Me!
Place Names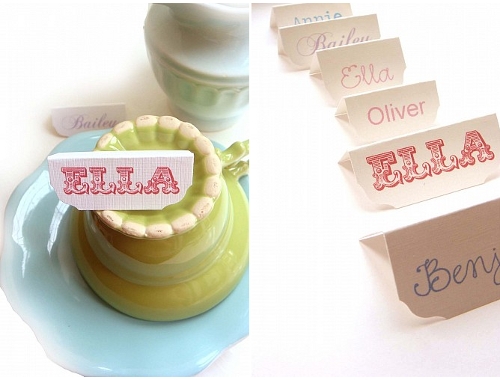 Place names all typed in different fonts and colours, like these from Katie Sue look stylish but they can of course be home-made just as easily.
Hand picked flowers in season will look great in different sized jam jars spread randomly down the table. Packs of cards also fit the theme and are a fun way of getting guests mingling and occupying the children.
Entertainment
Croquet for entertainment on the lawn and a fun jazz band should help to create a lovely relaxed garden party wedding. You don't need a dance floor, there is something very romantic about seizing a moment and dancing with your groom on the lawn.
Don't Overdo It
Don't overdo the theme, and don't worry too much about everything matching. The great thing about tea parties is you can collect glasses and crockery from auctions and the fact that they aren't identical just adds to the table. Some of the best weddings are the ones where guests have said "It was so relaxed, and fun".
The great thing is all these ideas are relatively inexpensive, but you should be prepared with a canopy/marquee in case the weather doesn't behave.
About the Author
Zoe runs Cherish Wedding Planning which is based in Cambridge and offers a comprehensive wedding planning service with a free consultation and fixed hourly rates.