While the main aim is to choose flowers in a colour that you like, you'll want to select flowers that fit in with the general colour scheme of your wedding. Think about the venues where you will be holding your ceremony and reception. If you love the idea of soft pink flowers but your venue has a scarlet patterned carpet, you might need to rethink your colour scheme. Also, if your venue is modern and minimalist, delicate country flowers in pastel shades could easily look out of place, while arrangements of striking white lilies would be ideal.
White
Pure and clean, the traditional bridal colour, is a good catch-all colour for weddings as it contains all the colours of the spectrum and therefore all their qualities.
It's important to remember, however, that white wedding dresses come in a wide variety of shades; you want to make sure that the flowers that you choose will coordinate with your wedding dress so you should match it with a swatch.
Choices include:
Ammi
Gypsophila
Lily
Gardenia
Narcissus
Red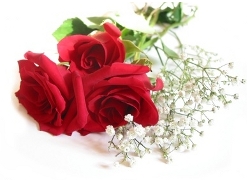 Full of energy; Symbolises beauty, courage, continuity and immortality; Attention grabbing and assertive. Raises the pulse rate – hence a passionate colour!
Amaryllis
Anthurium
Celosia
Geranium
Rose
Poinsettia
Pink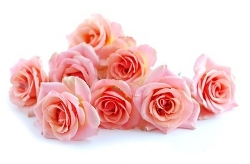 Feminine and non-threatening – think pink and you think of grace, gentility, and happiness.
Pink blossoms convey youth, innocence, joy and love. Calms the nerves; often associated with fragrance.
Azalea
Carnation
Sweet Pea
Nerine (Guernsey lily)
Yellow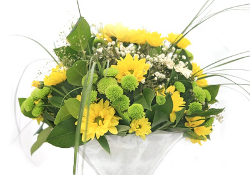 Bright, sunny and cheerful – a symbol of friendship. Stimulates the memory – reminiscent of summer, sunshine and holidays.
The colour yellow signifies new beginnings, happiness and success.
Achillea
Begonia
Daffodils
Hibiscus
Sunflower
Green
Synonymous with nature and ecology – the perfect complement to any other bloom.
Green represents health, resilience, good fortune and youth.
Green flowers and foliage provide a perfect relaxing background while, at the same time, expressing joy and optimism.
Options incorporating green include:
Bells of Ireland (Moluccella)
Zinnia
Calla Lily
Hydrangea
Leaves & Foliage
Blue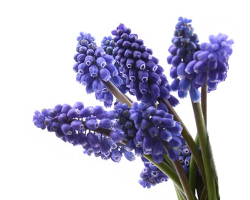 Pale blue hues calm worries and preoccupation – representing peace, openness, and serenity.
Fresh floral arrangements filled with blue flowers offer a cooling antidote to anxiousness. Restful, calming, and cool. Relaxes the mind – like the sky and the sea.
Agapanthus (African Lily)
Delphinium
Hydrangea
Iris
Muscari
Scabious
Purple
Dramatic, flamboyant, unusual and mystical. The colour of royalty, representing refinement, grace, and elegance.
African Violet
Allium
Anemone
Lisianthus (eustoma)
Flowers are often cheaper if you choose blooms that are in season around the time of your wedding, so it's worth looking at one or more of the following varieties, depending on your wedding date.
Spring
Blossoming springtime flowers signify the onset of the summer months. Golden Daffodils and pastel shaded Tulips add a dash of colour to proceedings in early Spring. Azaleas and Cherry Blossom give a hint of Summer as temperatures rise towards the end of the season.
Other Springtime flowers include: Freesia, Hyacinth, Lilac Magnolia and Muscari.
Summer
Summer is a time of abundance for flowers, with all colours and shapes available. Sweet Pea – Lilac and Carnations are all appealing, while Lavender will add magnificent fragrance to your bouquets and reception tables.
With the Summer weather affording the opportunity to use flowers outdoors – consider using garlands and flowers to adorn tables and chairs, or strewing the floor with petals. Summertime flowers 'in-bloom' include: Delphinium, Hydrangea, Peony, Roses, Sunflowers
Autumn
Golden yellow, orange and deep red are all popular for flowers. Berries – Foliage – seedpods and twigs or, almost, anything natural, works well for table centrepieces. Exotic flowers such as Orchids give contemporary autumn weddings a touch of drama, while traditional brides should consider Hydrangea and Pinks.
Autumn flowers to consider include: Chrysanthemum, Euphorbia, Gerbera and Hypericum.
Winter
Wintertime and short, dark days need not be an obstacle to a successful floral theme. As well as the many 'all-year round' varieties available also consider the 'early-bulb' flowers such as Amaryllis – Hyacinth – Tulip – Narcissus and Hellebore. Flowers from the Southern hemisphere, such as Protea, Kangaroo Paw Anigozanthos and foliages including Ilex (Holly Berry) and Leucadendron can be employed to add much-needed colour.
Natural colours tend to be darker with rich reds and purples a firm favourite for winter brides, although, if you want to move away from dark shades, white is a good alternative with its echoes of snow and ice.
All Year Round
Many flowers and foliages are now available all year round. This may mean that at certain times of year they cost a little more, as they have been grown with added heat and light, or flown in from far countries. However it also means we get a huge choice of fresh products right through the year.
Favourites include : Chrysanthemum, Delphinium, Freesia, Carnation, Gypsophila, Iris and Roses.
A selection of bouquets from Interflora's wedding flower collection…
Useful Links