Wedding On A Budget Planning Tips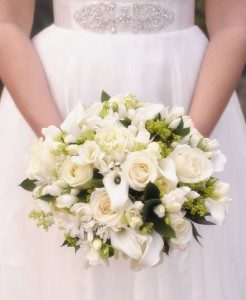 Planning a wedding is not an easy task to do. It is also not the most affordable one.
So here are some tips from Style & The Bride on how you can plan your wedding on a budget.
16 tips to help you plan a wedding on a budget
1. Go seasonal when it comes to wedding blooms
Tell your florist which month you are getting married in and ask him/her to tell you the flowers that will be available seasonally without having to source blooms from overseas.
Locally sourced flowers are better value as otherwise you will have to pay import costs.
2. Favors that double up as place names
If you like the idea of favors, but don't want to spend a small fortune, why not get favours that double up as place names?
Ideas include personalized cookies, miniature photo frames with names inside, or shot glasses filled with sweets with the guests' names engraved on them.
3. Dessert table provided by 'avid baker' guests
The Great British Bake Off has spawned a new generation of avid bakers.
Where once only your great aunty would be able to whip up at a victoria sponge at a minute's notice, now even your most fashionable of friends are getting in on the act.
Why not ask each of your 'baker' friends to contribute a cake for your dessert table?
4. Bouquets as table decorations
After the wedding ceremony, what happens to your bridal bouquet and the bouquets of your bridesmaids?
Often they go to waste.
So get your mum or bridesmaids to take them from you after the ceremony and use them as table decorations at your reception.
5. Personalised reception table centres
If you can't afford expensive flower table centers, why not do something that won't cost much but will still look stylish and personal?
Get photographs of you and your groom throughout your relationship and place them in photo frames.
6. Handwritten notes instead of favors

Dispense with favors and write handwritten notes to your guests that won't cost you a penny.
If you write a little note to each guest on why you are so happy that they are at your wedding, not only will they be deeply touched, but also it will avoid you having to splash out.
7. Use family heirlooms
Buying new jewellery for your wedding can be incredibly expensive.
Instead of choosing just one item for your 'something old,' ask aunties/grandmas and mother-in-law to bes if you could borrow earrings/bracelets/necklaces.
8. Find your wedding dress at a sample sale
You can still have a designer wedding dress if you are planning a wedding on a budget.
Many bridal designers have sample sales at the end of the season where you can find gowns at a fraction of their original price.
9. Serve your wedding cake as your dessert
Not only will you save money by not having a stand alone dessert, but the saving will allow you to splurge a little bit more on the style, flavours and fillings of your wedding cake.
10. Do your own wedding make up
Professional wedding make up artists can be very expensive.
However, if you pay a visit to a big name beauty counter at a department store, they can do your make up for free and give you tips and advice that you can use when doing your own bridal make up.
11. Have a mid-week wedding
The most popular weddings are at the weekend, so if you opt for a wedding in the week, they are about a third cheaper.
12. Borrow a car
Rather than hiring transport to the ceremony and reception, ask your friends and family if they have a luxury car you could borrow.
13. Share the cost of wedding flowers
If you know another couple who are having a wedding ceremony before or after yours, why not ask them if you could share the cost of wedding flowers?
You can opt for classic flowers that will suit you both, and then you can split the cost between you.
14. Reuse Christmas decorations for winter weddings
If you are having a winter wedding, and have a great big stash of decorations that you only get out at Christmas, why not use them to decorate your reception?
15. Make the most of your friends
Your friends are one talented bunch, so make sure you make the most of them.
If you have one who is a hairdresser, I am sure they would be happy to do your hair for free.
Or, alternatively, perhaps you know someone who is great with flowers and could help create your bouquet and bridal arrangements at a reduced cost?
16. Get crafty
Ask your girlfriends over one evening for a 'wedding craft' evening, making decorations and favors.
Not only will it be incredibly beneficial in terms of cost, but also it is a great excuse for a gossip.