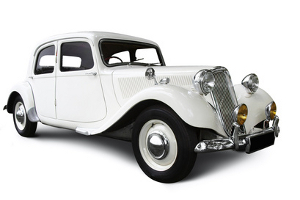 When thinking of hiring wedding transport you are probably tempted to be as lavish as possible, but as with the rest of the wedding it's best to think of the overall style of the day.
It wouldn't do to book a big showy classic car if the rest of your day is low key and simple and likewise you wouldn't want an unusual mode of wedding transport if you are going for a traditional service.
Consider your tastes and characters and choose a wedding car that closely reflects the theme you have for your wedding day.
Be Practical
Practicalities also need to be considered. If you have a large dress then how practical is it to turn up in a small sports car? Also if you want something that is open-topped, do be aware of how the weather can turn and how even the slightest of breezes may dislodge any veil or tiara; you really don't want to be running down the road chasing an errant veil on your wedding day!
Once you've decided on a suitable wedding car you need to decide how you are going to decorate it. Many firms will offer this for you and the key is to have too little rather than too much. Lots of ribbons, flowers and other decorative items may cover up too much of the fancy car you've chosen so use decorations sparingly and try to coordinate your colours with your bouquet or the bridesmaids dresses.
In fact if you have chosen a classy car to take you to the wedding you may decide that the car is decoration enough and opt just for a simple ribbon on the bonnet. Less is more in this case.
Choosing a wedding car company
Whilst it might be nice to choose a local family company you do need to ensure that they are 100% reliable because they are responsible for getting you to the church on time without any hitches. Try to get some recommendations or have a look at their portfolio which should list all the successful weddings they've supplied for.
Your safest option may be to choose a larger, reputable company who will have a larger range of cars for hire and should be able to supply an identical alternative should things go wrong. Read their terms and conditions carefully and make sure you know what their obligations to you are should things go wrong.
Alternatively you could ask your friends as you never know who might have a classic old Jag collecting dust in the garage! Or you could approach a hire car company and hire something suitable such as a Merc or a BMW for the day – it could work out cheaper, especially if you assign the role of chaffeur to one of your friends.
How much to pay for wedding cars?
Wedding car rental varies considerably depending on what you are after, so there isn't really any set price. The most expensive cars will be classic or vintage cars and will come with a chauffeur whereas the cheapest will be self-drive to be used for a short journey – say to ferry you and your new husband from the ceremony to the reception.
Talk to the company who will be providing the service and let them know what your budget is and what they can provide for the amount. As a rough guide, for something like a Bentley to do two relatively short trips you can expect to pay in the region of £300. A deposit of around 25% will also be required.
Wedding Car Etiquette
Many modern weddings don't stick to strict wedding etiquette any more but if you want to do things properly then you will need two cars – one for the mother of the bride and the bridesmaids and one for the father of the bride and the bride herself. The mother of the bride's car will leave for the ceremony first so that they can be there to greet the bride and accompany her into the venue. The bride will follow closely behind.
After the wedding ceremony the bride and groom will travel together to the reception with the bridesmaids following in the second car.
If you are on a budget and the reception venue is only a short distance away, you could get the wedding car to do several trips to take the bridesmaids and respective parents to the reception.
Hopefully if all goes well you will arrive at the venue in style and have some fabulous wedding photographs of you and your sleek wedding car to put in your album – along with some treasured memories of your special day.